38th Annual Golf Classic, Presented by Mutual of America Financial Group, Nets Record Amount of $78,000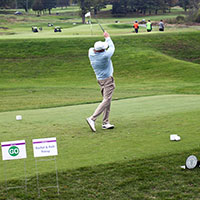 Event Proceeds Support Wheeler's New Community Health Center at One Hope Street, Bristol
---

Golfers, sponsors, and volunteers took part in Wheeler's 38
th
Annual Golf Classic, presented by Mutual of America Financial Group, on October 18 at The Country Club of Farmington. The event netted approximately $78,000—a record-breaking amount—to support Wheeler's new flagship community health center and administrative headquarters at One Hope Street, Bristol.
The total amount raised through this event is more than $1.4 million since its inception in 1986. The 2023 tournament, driven by strong community support for the Bristol project, netted approximately 24 percent more than the 2022 Wheeler Golf Classic, which previously had been the record-setting year for the event.
"We are deeply grateful that our sponsors, golfers, volunteers, and friends stepped up to provide even greater support for our event this year as part of our 55th Anniversary Challenge and fundraising campaign for Bristol," said Sabrina Trocchi, PhD, MPA, president and chief executive officer, Wheeler. "This time-honored tradition—and very special community associated with it—have played integral roles in our efforts to raise funds for our new community health center. We are rapidly approaching our $555,000 campaign goal."
Wheeler's 38th Annual Golf Classic was made possible by many organizations, including Presenting/Title Sponsor, Mutual of America Financial Group; Platinum Dinner Sponsor, M&T Bank; Platinum Logo Sponsor, The Manafort Family Foundation; Grand Prize Sponsor, Liberty Bank; Golf Cart Sponsor, Genoa Healthcare®; Lunch Sponsor, Access Health CT Small Business; Snack Bag Sponsor, Mott; Beverage Cart Sponsor, Stillwater Fasteners and Triem Industries, LLC; and Golf Ball Sponsor, Tecton Architects. Additionally, the event was supported by members of the 2023 Champion's Circle: Barnes™, Brown & Brown, Inc., Karl Krapek, Liberty Bank, Linde, and Laurie and Bill Torres. Mitchell Auto Group was the event Hole-in-One Sponsor. Numerous additional sponsors also provided support.
Click here for the full list of sponsors.
Wheeler's New Community Health Center and Administrative Headquarters in Bristol
Wheeler's two Family Health & Wellness Centers in Bristol, and many administrative departments at Wheeler's corporate headquarters, will soon consolidate to a new, more accessible site at One Hope Street in downtown Bristol. The 46,000-square-foot community health center will offer integrated primary and behavioral health care, treatment for substance use disorders, nutrition services, and much more.
The Bristol fundraising campaign, publicly announced in February 2022, was launched through an initial pledge of $100,000 from the Barnes Group Foundation during a silent fundraising phase, as well as a $100,000 goal in gifts and pledges from Wheeler's Board of Trustees; and $80,000 from Wheeler's senior and executive leadership. Since the launch, Wheeler has received donations toward the campaign from approximately 400 individuals and organizations, from corporate employee giving campaigns to realized planned gifts. In addition, a supporting named brick campaign is on track to have at least 100 bricks in place when the facility opens. Bricks are still available for purchase. For details, visit WheelerHealth.org/BricksforHope.
Wheeler's Annual Golf Classic
The Wheeler Annual Golf Classic was founded by a group of business leaders and top companies in 1986 to raise money for behavioral health and community-based services for children and adolescents.
Proceeds from past Golf Classic events have helped Wheeler address emergent community needs such as ensuring access to integrated primary and behavioral health services in underserved communities; child abuse prevention; providing support for basic needs; and helping to create a state-of-the-art learning environment for students with emotional and behavioral challenges.

LATEST NEWS ABOUT ONE HOPE STREET, BRISTOL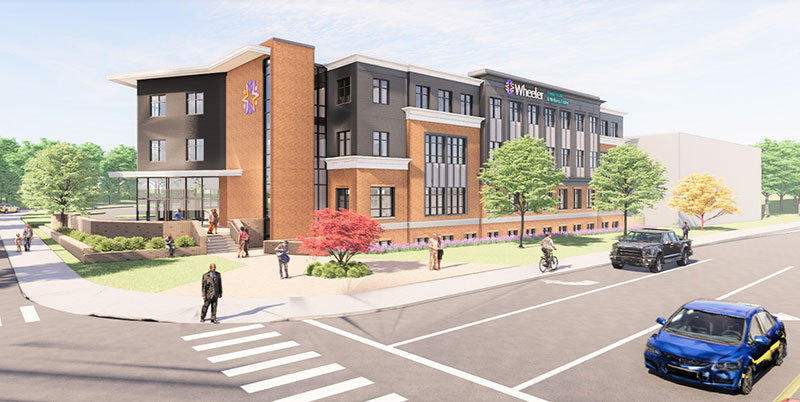 INVEST IN IMPACT: The Campaign for Bristol

​​​​​​​​​​​​​As of October 20, 2023, we are around 97% to our $555,000 goal!
​​​​​​​

​​​​​​​Bricks for Hope in Bristol - Leave a legacy with a named brick at One Hope Street!
Timelapse construction video (October 6, 2023)

Wheeler Health's 38th Annual Golf Classic, Presented by Mutual of America, Raises Record $78,000 Toward Bristol Campaign (October 20, 2023)
Wheeler Health Exceeds Original Goal, Extends Bristol Fundraising Campaign to Celebrate 55th Anniversary (July 10, 2023)
Wheeler Awarded $980,000 in Federal Support for Bristol Health Center, Headquarters (February 10, 2023)
Wheeler Breaks Ground on One Hope Street, Bristol (September 29, 2022)
Wheeler Health Chooses Construction Management Firm for Centre Square in Bristol, Reaches 80 Percent of Fundraising Goal (August 15, 2022)

Nutrition program will be expanded as well, with our second Corsini Kitchen!

Gift Supports Plainville Students, Bristol Health Center (April 7, 2022)
Wheeler Health to Purchase Centre Square Property for Flagship Health Center and Corporate Headquarters; $500,000 Fundraising Campaign Announced (February 9, 2022)
To Bristol, Thank You (February 9, 2022)
Centre Square - Questions and Answers (February 7, 2022)
An Open Letter to the Bristol Community (February 3, 2022)