LGBTQIA-Responsive Services at Wheeler
Wheeler understands the unique health care needs of the LGBTQIA+ community, and we offer a full continuum of affirming, integrated primary and behavioral health care services. Every day, we acknowledge, affirm, and celebrate our LGBTQ+ clients, patients, students, and staff.
Call our Navigation Center at 888.793.3500 to make your appointment today!
Outpatient services are provided at our federally qualified health centers: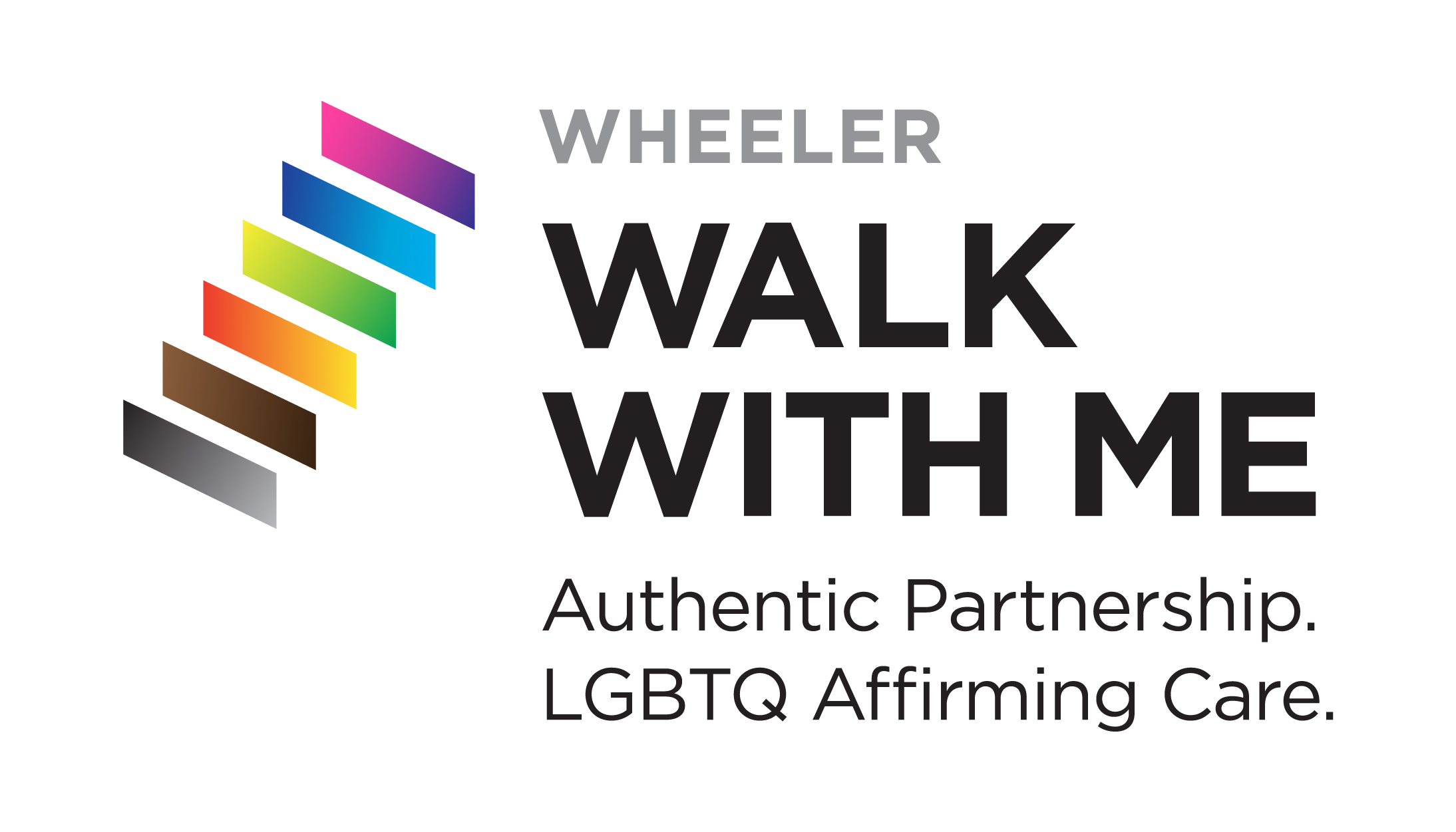 Walk With Me - Walk With Me is a specialized outpatient treatment track for LGBTQ+-identifying people of all ages who are seeking therapeutic and/or peer support to address their specific needs. The Walk with Me track is designed to create a safe, affirming, and inclusive array of services for LGBTQ+ people and their loved ones where they can be validated, explore their identities, reduce feelings of isolation, strengthen their support system, and develop skills to cope with stress and stigma. With an emphasis on treating the whole person, this track includes a dedicated team of behavioral health, medical, and peer support staff to provide robust wrap-around services that are tailored to meet the needs of each unique patient--wherever they are on their journey.
PrEP (Pre-Exposure Prophylaxis) Prescriptions are available through our on-site Genoa Healthcare pharmacies. PrEP is a prescription medication that can prevent HIV for HIV-negative individuals.
PEP (Post-Exposure Prophylaxis) is also available. When started soon after exposure to HIV, PEP therapy reduces your chance of becoming HIV-positive. These medications keep HIV from making copies of itself and spreading through your body. PEP therapy at Wheeler generally involves several prescription medications, taken for about a month after exposure.
HIV Treatment. While there is no effective cure for HIV, you can control HIV with proper medical care. Wheeler providers offer antiretroviral therapy (ART) that reduces the amount of virus in your body, and many people find they can get the virus under control in a several months.
Hepatitis C screening and treatment. Screening and treatment of Hepatitis is vital to prevent and control the disease in populations disproportionally affected by it, such as the LGTBTQIA+ community.
Gender-affirming hormone therapy for adults 18+. Gender affirmation hormone therapy is a prescription treatment that helps people gain the outward characteristics that match their gender identity.
Foster Care. Wheeler is a statewide leader in foster care, and we welcome and affirm the LGBTQIA+ community's commitment to providing safe, loving households for youth in the foster care system.
LGBTQIA+ Advisory Board. Meeting the 2nd Wednesday of the month, Wheeler's LGBTQIA+ Advisory Board is a group of passionate individuals dedicated to ensuring the LGBTQIA+ community is provided equitable access to innovative care that improves health, recovery, and growth at all stages of life by strengthening and expanding on all services through identity affirming care.
The Board is looking for additional passionate individuals who are interested in helping Wheeler in this mission by regular attendance and participation in monthly meetings. The Board is especially interested in connecting with members of the LGBTQIA+ community who are currently participating in services at any of our Wheeler site locations. Also, Wheeler staff who have interest or experience providing care to the LGBTQIA+ community are encouraged to join. If you have any questions or would like to become a board member, please contact Monique Daley at mdaley@wheelerclinic.org.
LGBTQIA History Month and Pride Month. Join us in October as we celebrate LGTBTQIA+ History Month at Wheeler, and again in June for Pride Month. With moments of observation, recognition of special days, organization-wide events, and more, we honor and affirm our LGBTQIA+ patients, staff, and community.
---
Supporting the LGBTQIA Community
Wheeler is a proud sponsor of the organizations, events, and moments that make Connecticut's LGBTQIA community vibrant and healthy. Some recent relationships include:
FEATURED MEMBER
---
LGBTQIA HEALTH RESOURCES