Wheeler's Foster Care programs, funded by the Department of Children and Families, provide 24-hour supported family homes to children and adolescents, generally ranging in age from 6 to 17 from all races, religions and cultures. The lives of these children have been disrupted for reasons including neglect, abuse and abandonment.
Wheeler needs foster parents to open their homes and help children feel safe by understanding their unique strengths and personalities, and facilitating their recovery from trauma. Our team of experts coordinates services for children of all age groups and backgrounds with the goal of providing a nurturing home and a structured environment for children and adolescents. Families are part of a team of professionals and are supported throughout the placement process and beyond with training and financial compensation.
---
Foster parenting for LGBT families. Learn more here.

Get started on the path to foster parenting here.
Learn more about Wheeler's upcoming foster parent OPEN HOUSES here.
Host a Foster Aware Party. Details here.
Pre-registration and an application process required. Contact Wheeler's Foster Care Recruitment Team at 860.793.7277 or send us an email.

Listen to recent Foster Care messages, now running on AMP Radio Network here.

Talk directly with members of our nurturing team:
Chris Popilowski
Foster Care Senior Recruiter

Allison Casinghino
Foster Care Senior Recruiter

Michelle Martins
Foster Care Senior Recruiter
Recruitment Line: 860.793.7277

Open Your Home and Heart
A child in your community needs you. Make a difference. Become a foster parent.

The Need in Connecticut
More than 4,000 children in Connecticut are in need of healthy, loving homes. Learn more.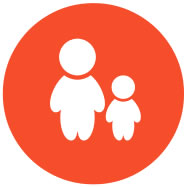 Get Started Today
Our upcoming informational sessions will help put you on the path to becoming a foster parent.