Wheeler Bristol Family Health and Wellness Center
10 North Main Street, Bristol
225 North Main Street, Bristol
860.793.3500 or toll-free 888.793.3500
Monday–Thursday: 8AM–8PM (6PM at 10 North Main Street)
Friday: 8AM–6PM
Medical care for all ages, including walk-in services
10 North Main Street, Bristol

Physical exams

COVID Vaccines

All locations will have the Pfizer adult booster (for ages 12 and up). The Family Health & Wellness Center in Hartford will also offer the Pfizer primary booster series for children aged 6 mo-4 years, and the Pfizer primary and booster for pediatric patients aged 5-11 years.
These events are supported by the Health Resources and Services Administration (HRSA) of the U.S. Department of Health and Human Services (HHS) as part of an award totaling $189,922 with 0% financed with non-governmental sources. The contents are those of the author(s) and do not necessarily represent the official views of, nor an endorsement, by HRSA, HHS, or the U.S. Government. For more information, please visit HRSA.gov.

Pediatrics, including well-child care and vaccinations
Chronic disease management for asthma, diabetes, hypertension/heart health, HIV, and treatment and services for Hepatitis C
Women's health
Chiropractic care
LGBTQIA-responsive services for all ages
PROUD Program for women who are pregnant or parenting young children and who have active substance use concerns, or a substance use history, including opioid use, or a related disorder
And more!

Behavioral health services for all ages, including individual and family therapy. We can help with anxiety, depression, defiant behaviors, trauma, grief, substance use disorders, and more. Our services are LGBTQIA-responsive.
225 North Main Street, Bristol

Walk-In Access to Behavioral Health Services

We offer same day walk-in access for behavioral health services. To best support our patients, first-time evaluations are conducted face to face or virtually Monday–Friday: 9:00 AM–3:30 PM. We value your time and are dedicated to providing excellent service in a timely manner.

Monday–Friday: 9:00 AM–3:30 PM
225 North Main Street, Bristol

Medication-assisted treatment for addiction such as extended-release naltrexone (Vivitrol®) and buprenorphine (Suboxone®) for alcohol, heroin and opioid addiction
Laboratory services
Support for the basic needs of life, through our Basic Needs Fund
---
SCHOOL-BASED HEALTH CENTERS IN BRISTOL
Wheeler's school-based health centers provide individual behavioral health services as well as linkage to other services in the community, including connections with the Family Health and Wellness Center for primary care, and a broad continuum of outpatient and community-based care.
Learn more here, or call Wheeler's Navigation Center at 860.793.3500 or 888.793.3500.
Bristol Central High School, 480 Wolcott Street
Bristol Eastern High School, 632 King Street
Bristol Preparatory Academy, 210 Redstone Hill Road
Chippens Hill School, 551 Peacedale Street
Edgewood School, 345 Mix Street
Greene-Hills School, 718 Pine Street
Hubbell School, 90 West Washington Street
Ivy Drive School, 160 Ivy Drive
Mountain View School, 71 Vera Road
Northeast Middle School, 530 Stevens Street
South Side School, 21 Tuttle Road
Stafford School, 212 Louisiana Avenue
West Bristol School, 500 Clarke Avenue
Staff Focused on YOUR Needs and Whole-Person Health
Wheeler's Family Health & Wellness Centers provide a continuum of integrated primary care, behavioral health, and support services. Our medical care providers, medical assistants, clinicians, counselors and care facilitators work as part of an integrated, whole-person team, ensuring that your complete health is considered and cared for. This ensures the best outcomes and provides a more comprehensive view of wellness.
Meet our clinical leadership at our Family Health & Wellness Centers.

A BRIGHT FUTURE ON HOPE STREET
Now in construction, the future of Wheeler's two Family Health & Wellness Centers in Bristol is at One Hope Street. Read more below.
LATEST NEWS ABOUT ONE HOPE STREET, BRISTOL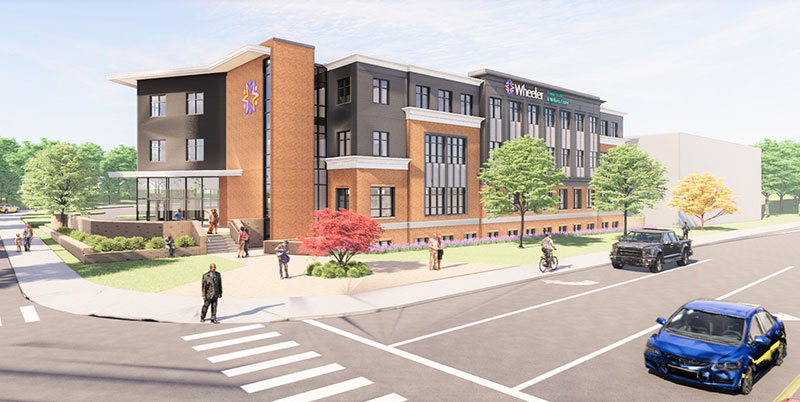 NEWS FROM WHEELER'S FAMILY HEALTH & WELLNESS CENTERS