Our Foster Care Program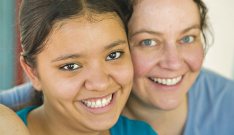 Wheeler's Foster Care program addresses the unique needs of the youth we serve in Waterbury and surrounding towns, using the Functional Family Therapy in Foster Care model (FFT Partners).
Contact us today to learn more about our inspiring TIPS-MAPP training, which will get you started on the path to fostering at 860.793.7277 or Fostercareprograms@wheelerclinic.org.
---
---
---
As a Wheeler foster parent, you can:
BECOME LICENSED AS A THERAPEUTIC FOSTER HOME
The program serves children, ages 6 through 17, who have been removed from their homes due to abuse and/or neglect, or how may be experiencing symptoms related to trauma, loss and other behavioral health concerns. Foster families receive ongoing training and 24/7 support from our team.
PROVIDE RESPITE CARE
Respite Foster care offers a temporary home in which a foster parent or family takes over the parenting responsibility for another foster parent. Respite providers must meet licensing requirements, including training and other background checks.
Apply to be a foster parent today!
We serve youth and families in Waterbury and surrounding towns; however, if you live in areas outside of this region and are interested in foster care, please contact us as well.
For information about foster care opportunities, call 860.793.7277 or email FosterCarePrograms@Wheelerclinic.org