If you have ever wanted to make a difference in the life of a child or youth, consider becoming a Wheeler foster parent. Our caring team will work with you every step of the way, from explaining the process and why the need for loving families is so great, to ongoing support following your match with a child or youth. Click on the icons below to learn more about our programs and the array of informational sessions and trainings available to help get you started.
There is no better time than now to make a difference.

Open Your Home and Heart
A child in your community needs you. Make a difference. Become a foster parent. Our caring team provides extensive training and support.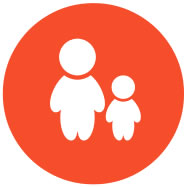 Get Started Today
Our upcoming informational sessions and inspiring TIPS-MAPP course will help put you on the path to becoming a foster parent.

The Need in Connecticut
More than 4,000 children in Connecticut are in need of loving homes. Learn more about how our programs serve children and youth.