Wheeler Waterbury Family Health and Wellness Center Now Open at 855 Lakewood Road, Waterbury

855 Lakewood Road (moved from 100 Jefferson Square)
Waterbury, CT 06704

Monday–Friday: 8:00AM–6:00PM
Call our Navigation Center at 860.793.3500 or toll-free 888.793.3500

COVID-19 UPDATE:

Walk-in services are provided, but calling first is strongly recommended. Most services can be provided by telephone or telehealth.
Wheeler's Navigation Center is open at 860.793.3500, Monday through Thursday, 8AM to 6PM and Friday from 8AM to 5PM.
Learn more about COVID testing at Wheeler's Family Health & Wellness Centers.
---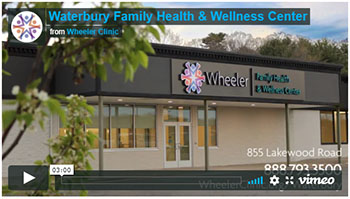 Wheeler's Family Health & Wellness Center at 855 Lakewood Road, Waterbury is a community health center offering a full array of primary care and behavioral health services for adults, children and adolescents, including:

Telehealth for many of the services below!
Primary care and pediatrics
Behavioral health outpatient services for children, youth and adults, including individual, family, and group therapies

Services for children and youth address anxiety, depression, defiant behaviors, trauma, grief, substance use disorders, and more.

Psychiatric services, including evaluations and medication management
Addiction services, including medication-assisted treatment
Intensive outpatient services
Linkages to specialty and ancillary services like dental care
Care management for adults with complex health care needs and behavioral health concerns
On-site Genoa Healthcare pharmacy and Quest Diagnostics laboratory services
Prevention, health promotion, and wellness services
Chronic disease management for asthma, diabetes, hypertension/heart health, HIV, and treatment and services for Hepatitis C
Women's health services
Medicaid, Medicare, and commercial health insurance welcome. A sliding fee scale is available based on family size and income. No patient will be denied health care services due to an individual's inability to pay for services.
Call our Navigation Center for more information or to schedule a first-time appointment: 860.793.3500 or toll-free 888.793.3500.
Staff Focused on YOUR Needs and Whole-Person Health

Wheeler's Family Health & Wellness Centers in Bristol, New Britain, and Hartford provide a continuum of integrated primary care, behavioral health, preventive dental and support services. Our medical care providers, medical assistants, clinicians, counselors and care facilitators work as part of an integrated, whole-person team, ensuring that your complete health is considered and cared for. This ensures the best outcomes and provides a more comprehensive view of wellness.
Meet our clinical leadership at our Family Health & Wellness Centers.