Major Gift Creates Transgender Peer Support, Medical, Therapy Services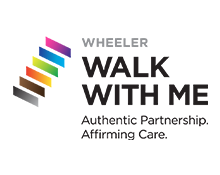 "Walk With Me" Launches in Hartford and Plainville
PLAINVILLE, Conn. (UPDATED: May 25, 2021 Original Date: March 2, 2021) – A $100,000 gift is funding the creation of a specialized service to provide transgender adolescents and young adults with peer support, medical care, and gender-responsive therapy.
"Walk With Me" is available at Wheeler's community health centers in Plainville and Hartford. It is an outpatient treatment track for LGBTQ+-identifying young people ages 10-25. [READ MORE: Wheeler's continuum of LGBTQIA-Responsive Services]
Designed to create a safe, affirming, and inclusive array of services, Walk With Me aims to meet individuals where they are on their journey, and walk the path beside them and their loved ones to provide validation and a supportive environment for identity exploration.
Included in the track are specialty services to meet the unique needs of transgender and gender non-binary (GNB) or gender-expansive youth, who report significantly increased rates of depression, suicidality, and victimization compared to their cisgender peers, and who are at higher risk for homelessness or housing insecurity.
The Walk With Me track utilizes a combination of clinical behavioral health, peer support, community engagement and outreach, and educational components to meet transgender and GNB youth where they are—and support them on their journey toward living healthy, authentic lives.
"The transgender community deserves respect, support, and access to health care that is responsive to their needs," says Sabrina Trocchi, PhD, MPA, president and chief executive officer of Wheeler. "Because of the visionary support of our donor, we can create Walk With Me in innovative ways that our team could only have imagined before."
The anonymous donor says the issue of care for transgender individuals hit particularly close to home in their family, and they chose to invest in Wheeler because of its history of integrated behavioral and primary health care and staff expertise to provide the services well.
The donation is the second-largest non-estate gift from a living donor in Wheeler's history, and the organization is focused on raising additional support for the program to sustain it.
As the program develops, more information about Walk With Me and Wheeler's continuum of supportive services is available at: WheelerHealth.org/LGBTQIA