Bricks for Hope in Bristol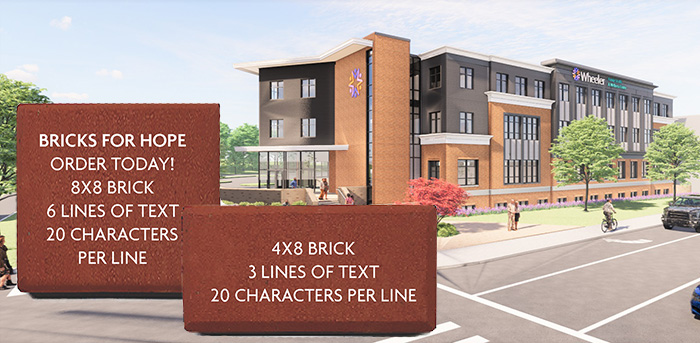 Celebrate Health, Recovery, and Growth by Naming a Brick at One Hope Street, Bristol

BRICK SALES EXTENDED FOR A SHORT PERIOD OF TIME!
We originally planned to end the sale of bricks for One Hope Street, on June 30, 2023, but because turnaround times can be extended to match the building construction, we are extending brick sales through the summer of 2023. Thank you!
Design a Brick for One Hope Street.
Click here for more!
---
Wheeler Health is moving its headquarters to downtown Bristol in 2023 and combining both of our existing health centers at One Hope Street, in Centre Square. Through our health centers, residents of Bristol and surrounding towns have access to truly integrated primary and behavioral health care, for all ages. In every Bristol school, at our centers, and for 55 years, Wheeler has served the community's most pressing health needs.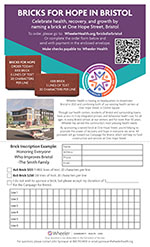 By sponsoring a named brick at One Hope Street, you're helping to promote the power of recovery and hope in everyone we serve. All proceeds will go toward our Campaign for Bristol, which will help to fund construction and services at One Hope Street.
Our vision is for the named bricks to be on prominent walkways to, and near, the entrances to One Hope Street.
A sample inscription could be:
Honoring Everyone
Who Improves Bristol
-The Smith Family
Please complete the online form below or use the PDF to the right to send in your brick information by mail.
---
Leave Your Creative Legacy at Our New Community Health Center!
Design a Brick for One Hope Street
Individuals and families are invited to submit a brick design to be considered for display at One Hope Street, Bristol, when Wheeler's new community health center opens. As part of our 55th Anniversary celebration, five winning designs will be selected on September 30, 2023, and winners will get an actual brick on which to paint their design.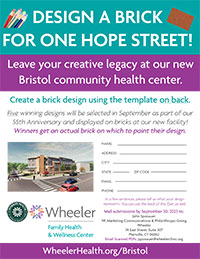 Click on this flyer.
Submissions must be mailed by September 30, 2023 to:
John Sponauer
Vice President of Marketing Communications & Philanthropic Giving
Wheeler Health
74 East Street, Suite 307
Plainville, CT 06062
Scanned PDFs can be emailed to: jsponauer@wheelerclinic.org