Wheeler Awarded $980,000 in Federal Support for Bristol Health Center, Headquarters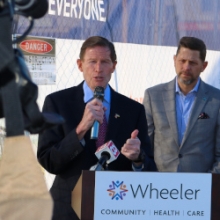 February 10, 2023 - U.S. Senator Richard Blumenthal, Bristol city officials, and Wheeler leadership celebrated the award of $980,000 in federal support for construction of Wheeler's new health center and administrative headquarters in Centre Square, Bristol.
Highlighting the work done by himself and U.S. Senator Chris Murphy to include the Bristol project among congressionally directed spending requested from the 2023 Omnibus Appropriations Bill, Blumenthal spoke about the vital need for behavioral health and health care for the state's communities, particularly for children.
"This...will be about treatment, hope and a brighter future for thousands of people who will come through its doors, " he said.
Blumenthal was joined at the construction site by Wheeler President and CEO Sabrina Trocchi, PhD, MPA, Bristol Mayor Jeff Caggiano, Bristol City Council Member Susan Tyler, and chair of Wheeler's Board of Trustees, Mary Rodier, CPA.
Caggiano highlighted the work to bring the project to Bristol and the 200 employees that will work out of the new facility, from combining Wheeler's two existing health centers in Bristol, as well as administrative staff moving from Plainville.
"This is much more than a building, more than a health center," Trocchi added in her remarks. "It is much more than a corporate headquarters. This year is Wheeler's 55th anniversary, and fifty-five years of being a leader in caring for the state. One Hope Street will become Wheeler's flagship location. We are bringing hope to Hope Street, in the form of local, professional jobs, and high-quality, integrated health care for the whole community."
Construction of the 46,000-square-foot facility will be completed in approximately one year.
RELATED LINK

LATEST NEWS ABOUT ONE HOPE STREET, BRISTOL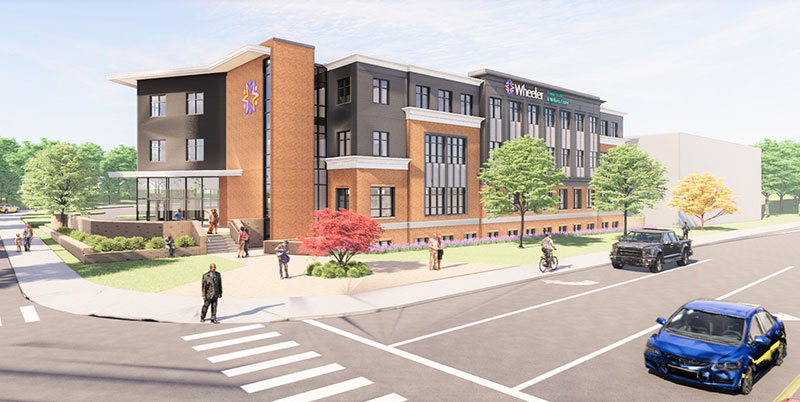 INVEST IN IMPACT: The Campaign for Bristol

​​​​​​​​​​​​​As of October 20, 2023, we are around 97% to our $555,000 goal!
​​​​​​​

​​​​​​​Bricks for Hope in Bristol - Leave a legacy with a named brick at One Hope Street!
Timelapse construction video (October 6, 2023)

Wheeler Health's 38th Annual Golf Classic, Presented by Mutual of America, Raises Record $78,000 Toward Bristol Campaign (October 20, 2023)
Wheeler Health Exceeds Original Goal, Extends Bristol Fundraising Campaign to Celebrate 55th Anniversary (July 10, 2023)
Wheeler Awarded $980,000 in Federal Support for Bristol Health Center, Headquarters (February 10, 2023)
Wheeler Breaks Ground on One Hope Street, Bristol (September 29, 2022)
Wheeler Health Chooses Construction Management Firm for Centre Square in Bristol, Reaches 80 Percent of Fundraising Goal (August 15, 2022)

Nutrition program will be expanded as well, with our second Corsini Kitchen!

Gift Supports Plainville Students, Bristol Health Center (April 7, 2022)
Wheeler Health to Purchase Centre Square Property for Flagship Health Center and Corporate Headquarters; $500,000 Fundraising Campaign Announced (February 9, 2022)
To Bristol, Thank You (February 9, 2022)
Centre Square - Questions and Answers (February 7, 2022)
An Open Letter to the Bristol Community (February 3, 2022)