Wheeler Breaks Ground on One Hope Street, Bristol
Groundbreaking of One Hope Street, Bristol

Groundbreaking of One Hope Street, Bristol

Groundbreaking of One Hope Street, Bristol

Groundbreaking of One Hope Street, Bristol

Groundbreaking of One Hope Street, Bristol

Groundbreaking of One Hope Street, Bristol

Groundbreaking of One Hope Street, Bristol

Groundbreaking of One Hope Street, Bristol

Groundbreaking of One Hope Street, Bristol

Groundbreaking of One Hope Street, Bristol

Groundbreaking of One Hope Street, Bristol

Groundbreaking of One Hope Street, Bristol

Groundbreaking of One Hope Street, Bristol
About 100 state and local leaders, board members, donors, employees, and friends gathered on Thursday, September 29th at a groundbreaking ceremony for Wheeler's planned 46,000-square foot community health center and administrative headquarters at One Hope Street in downtown Bristol. The site is an approximate 1.3-acre lot between North Main and Hope streets.
"We are breaking ground not just on a building, but on what we provide for the City of Bristol and across the state," said Sabrina Trocchi, PhD, MPA, President and CEO of Wheeler. "And that is hope. Every day, in every Bristol school, we're giving Bristol students and their families hope that tomorrow will be better. In a year, when this incredible building is completed, we're giving the city hope for a prosperous downtown, an influx of professionals shopping and working downtown, and a better tomorrow. And in this time when there are so many stresses and fractures, through the services we provide, here in Bristol and in 90 percent of the state's cities and towns, we're helping people find hope in a healthier tomorrow. So this is MUCH more than a building. Much more than a health center that perfectly meets our vision of truly integrated health care. Much more than a corporate headquarters.
This is hope."
Joining Trocchi to speak or participate in the groundbreaking were:
Mayor Jeff Caggiano, City of Bristol
Justin Malley, Executive Director, Economic & Community Development, City of Bristol
Jim Moylan, outgoing chair, Wheeler Board of Trustees
Mary Rodier, incoming chair, Wheeler Board of Trustees
Todd Raymond, Vice President of Facilities, Wheeler
David Patrick, President of Downes Construction
State Representative Whit Betts
State Representative Cara Pavalock-D'Amato
Department of Public Health Commissioner Manisha Juthani, MD
The site will combine many of Wheeler's administrative departments with a consolidation of its two existing community health centers at 10 and 225 North Main Street. About 200 full- and part-time employees will work at the new building, which will become the organization's flagship location. It is Wheeler's first newly constructed facility since its original location in 1972.
Following the groundbreaking, The Parkside Cafe on North Main Street hosted a reception for groundbreaking attendees.
A four-year fundraising campaign to support the project with $500,000 in private giving is already at 80 percent to goal. [TO CONTRIBUTE OR LEARN MORE: Invest in Impact, Invest in Bristol]
NEW! BRICKS FOR HOPE IN BRISTOL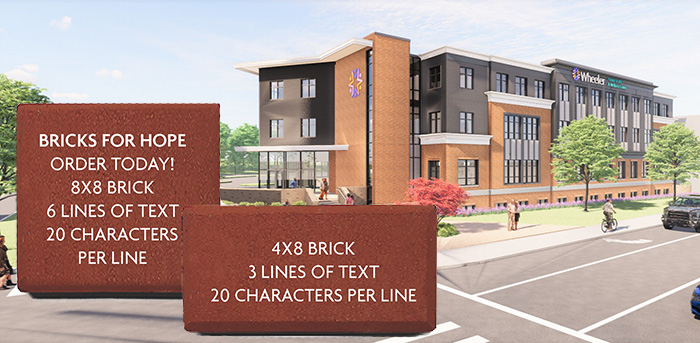 LATEST NEWS ABOUT ONE HOPE STREET, BRISTOL