Leading Together: The Boudreaus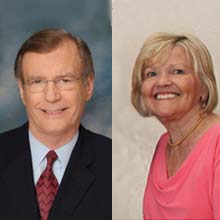 About 200 people have served as Wheeler trustees since 1968, but only one couple can claim to both have served, albeit at different times. The dedication of Ken and Judy Boudreau came in pivotal moments for Wheeler and helped position it for future growth.
They each brought an entrepreneurial approach to their roles, honed from decades of owning their own successful business. Ken served as chair or vice-chair for seven of his nine years, was a vital figure in Wheeler's first fundraising campaign, and helped guide financial decisions that solidified Wheeler's footing. After he left the board, Judy's service from 1993 through 1998—and as chair of the personnel committee—helped Wheeler transition from longtime Executive Director Dennis Keenan to David Berkowitz, a key evolution for the organization.
"Serving on the Wheeler board was my first experience with a nonprofit," Ken says. "Since then, I've served on about ten others, but Wheeler stands out because it was such a new and interesting role, sitting around a table with people who had passion and opinions, coalescing together to create ideas and make things happen; I look back and see it was formative and instructive."

Judy agrees, saying that the experience introduced her to many new and dedicated individuals on the board and in the staff.
"Wheeler was a different experience for me. What I found especially striking was the staff. They were so committed to the mission and to each other. They always seemed happy to be doing this work, and seemed to work together easily. When you see a team like that, it doesn't make it difficult to devote the time to help."
Ken considers longtime board members like Ray Corsini to have been mentors and inspirations of what service to community means. He sees both Dennis Keenan and David Berkowitz in a similar light.
"Dennis was great. The perfect person for the role at that time. His interest in life was service. He knew how to build, and he was a visible leader. I respected that," Ken says. "After I left the board and through another affiliation, David and I became fast friends. He was driven and committed to success. Even in his own fitness, it was a level the average person can't appreciate. You've got to be a special breed to be able to ride a bike 200 miles, and he'd routinely do that until he became sick. We'd get together for coffee and talk about two things: Wheeler and exercise. He was an absolute pleasure."
During Wheeler's first fundraising campaign in the mid-1980s, the Boudreaus made a lead gift toward the effort, which expanded Northwest Village School and renovated clinical space at 91 Northwest Drive, Plainville.
"I was fortunate to have [campaign chair] Phil Davidson," Ken says. "His leadership, community roots and, really, heroics, made it a success. Judy and I believe we've had good fortune in life. Philanthropy is appealing; to apply capacity toward where interests lie. Like my time on the board, Wheeler was also my first real experience in philanthropy. We've come to believe that what we belong to, we support."
Both Judy and Ken have different and complementary styles of leadership, formed from their own life experiences.
Judy says the work of running their own business gave her an advantage helping steer Wheeler's personnel policies.
"When you are an entrepreneur, you look to hire your team and you want commitment. But to lead that team, you have to practice what you preach. To me, leadership is about being committed to your ideals and goals and moving forward with the people around you. When you're working with a leader, you know it, and I think we both saw that in Wheeler's staff and board."
Raised in a blue-collar household, Ken says that he learned about leadership as a young Marine Corps officer in Vietnam, and then as an entrepreneur. He says the Wheeler experience rounded out his approach.
"I learned a lot of lessons in a serendipitous way at Wheeler. One meeting, we were talking about finances; I made a comment about what I thought was a better way. By the end of the meeting, I was asked to oversee it. That was a lesson right there; when you are vocal and care, you serve."
Looking at Wheeler today, they're both amazed at the work being done.
"I'm very impressed at how Wheeler has grown, in services and also geographically," Judy says. "In business, sometimes you need to be careful when you start growing, especially if it's into a new area. A lot of businesses just stick to one thing, but that's not the case with Wheeler. The best part is you can see that it's still doing the same great work as when we were each involved."