A Bright Future - Thoughts from our leadership team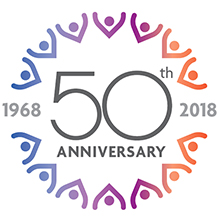 As our 50th anniversary draws to a close, we asked Wheeler's leadership team for their thoughts on how the organization has evolved and grown for five decades.
Here are some of their perspectives on the anniversary, the history, and what's to come.
---
"My experiences with Wheeler go beyond the 14 years that I have worked here. Wheeler has always had a strong reputation in the communities served, and that reputation has grown significantly in the past several years, expanding into new areas and new service types. The vision to embrace whole-person care has truly placed Wheeler in the forefront of an evolving health care environment with exciting opportunities and growth. Leadership and staff's commitment to Wheeler's mission makes this all possible. Working with such amazing and dedicated people makes Wheeler a top workplace. I am fortunate to be part of such an amazing team that remains focused on the people we serve!"
- Athena Dellas, MBA, Chief Financial Officer
"Four years ago, I joined Wheeler because of its reputation of being an innovative and high-quality provider. Wheeler had just launched its primary care services and was seeking to pursue HRSA designation as a federally qualified health center. A short four years later, not only did Wheeler attain community health center designation but has also expanded its health and wellness centers to three locations—Bristol, Hartford, and New Britain. Wheeler transformed its entire service delivery system to more effectively address "whole-person care" through the delivery of integrated primary care, behavioral health, dental, and recovery and wellness services, including acupuncture, mindfulness, yoga, and nutrition supports. Wheeler has leveraged its status as a community health center to continuously meet emerging needs of individuals presenting for care. An example of this is the development of Medication-Assisted Treatment to address the opioid crisis.
Wheeler, in the midst of very difficult federal and state budgetary constraints, has continued to grow in new services and product lines, all while enhancing access to high-quality, person-centered services and supports. Wheeler continues to be on the cutting edge and is recognized as a statewide leader. I'm excited to see what the next 50 years will bring! Happy 50th Wheeler!"
- Sabrina Trocchi, Ph.D., MPA, Chief Operating Officer
"In the 14 years I've been here, no one thing has been as impressive as watching the Family Health & Wellness Center on Woodland Street become a reality. It's been the pinnacle of all the work Wheeler has done for the last several decades. We get to a Woodland Street by focusing on excellence, taking intelligent risks, and innovating. I think back to one example along the way, the opening of 75 North Mountain Road. In 2005, there was one program there, in one corner, and you could barely walk through the rest of the building. We transformed that space, won our first AIC program in a very competitive bidding process, and quadrupled services for adults in size and scope. We knew we could do the work, and we knew we could excel. You see that same mentality with Woodland Street.
Looking forward from where we are today, we're only going to do more of that. We understand where we need to expand. We'll continue to take intelligent risks, we'll innovate, and we'll excel like we've always done."
- Nicolangelo Scibelli, LCSW, Chief Transformation and Information Officer
"Wheeler has expanded multi-directionally in the last 50 years. Under Susan's leadership, Wheeler has transitioned to a provider of life span, integrated health care services. One constant in our success is that our employees have been committed to our mission, innovation and evidence-based best practices. Their energy and passion have made all the difference in our success. Our diverse workforce today is 1,000 strong, across three-dozen locations, is highly skilled and trained and very well-positioned for the dynamic future of health care and special education services. We did not get to this point by being reactive. We have thoughtfully and strategically invested in our staff, our infrastructure, technology, and our processes. Our culture is one of innovation and continuous improvement. Our ultimate goal has always been to recruit, develop, engage, and retain the very best talent possible. Receiving Top Workplace recognition consecutively for six years validates and recognizes these efforts, as well as the dedication and hard work of our staff."
- Patricia Speicher Werbner, MPA, Chief Human Resources Officer
"Susan hired me in 2008, originally to report to David [Berkowitz]. I quickly found that I loved the passion of the leadership team, and the diversity of services and people at Wheeler. I saw it was a place where people could come for care when they didn't have successes elsewhere. That continues today. We've grown, but we've stayed true to ourselves, the community, and community needs. Adding on the medical services of the health & wellness centers, we're committed to not treat people in a silo, but look at every person as a whole. Wheeler's stayed true to its core values and ethics, and that is important. We want to be the best and most ethical in getting there. Part of that is culture and that the people we hire share that vision, passion, and commitment, not only to patients but to the organization itself. It's a special place."

- Sandra S. Cohen, MA, CPHQ, Vice President, Quality/Compliance Officer
"In the 13 years I've been at Wheeler, the organization has grown in ways I don't think any of us really could have understood at the time. In 2006, Wheeler was half the size, which I still thought was considerable for a community nonprofit organization. The growth of programs and services is astronomical. By my count, there have been seventeen openings or major renovations in my time, and every day here is something different. My department works with every other area of the organization, and many members of the senior leadership team that were here in 2006 are still here today. My team's evolved, doing more, more efficiently. No two days are alike, and the variety of my position is what makes it exciting and fulfilling.
The 13 years have gone by so quickly, but we have accomplished so much. It's amazing to take a step back and look with bewilderment on how Wheeler has evolved in 50 years. The future looks bright."
- Todd M. Raymond, Vice President, Facilities
"What an honor it's been to tell the story of this incredible organization's last 50 years, and it's made me even more excited for all that's to come. As we build on our earliest foundation of excellence and innovation, and accelerate the visionary growth of the last 10–15 years, one theme that's been clear in every story and every interview we've published is that Wheeler's commitment to innovation and doing things differently has been what's set us apart.
It's the people that make us different and better. The donors, whose passion for—and support of—our work inspire us. Our trustees over the decades, who provided steady hands and a vision for where we could go. Our 1,000 colleagues, who are so talented, so focused, so dedicated to our mission, vision, values, and, most importantly, everyone we serve. There have been so many examples just in my short five years here; being part of the opening of Woodland Street was one of the best moments of my entire career, with all it meant to the organization and its vision, and all the work that went into it.
It's been a pleasure to come into work every day, be part of this team, and tell this story in 2018."
- John R. Sponauer, MBA, Vice President, Marketing Communications and Philanthropic Giving
"I've been humbled and blessed to be part of an amazing Wheeler team for 18 years. There have been several consistent trends in that time. The first is growth—tremendous growth—in our scope of services, programs, staffing, and reach. Along with that, and really driving that growth, is the amazing, strategic, courageous leadership we have had in our presidents and trustees. Wheeler's commitment to integrated care, whole-person health, and wellness sets it apart; one recent aspect of this that I greatly appreciate is the focus on prevention, wellness, and recovery through complementary health strategies such as mindfulness, yoga, acupuncture, and more.
That focus on the whole person, as well as Wheeler's commitment to quality, caring, kindness, and compassion, keeps me motivated every day, and excited for the future."
- Judith Stonger, MA, CPS, CARC, Vice President, Prevention, Wellness, and Recovery