Wheeler Health Chooses Construction Management Firm for Centre Square in Bristol, Reaches 80 Percent of Fundraising Goal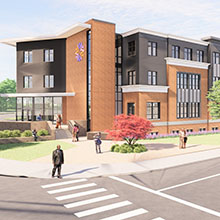 Teaching Kitchen, Nutrition Program Created Through Donors
Bristol, CONN. (August 15, 2022) – Moving ahead to help anchor the downtown Bristol Centre Square development with professional jobs and accessible health care for the entire community, Wheeler Health has chosen a construction management firm for its planned 46,000-square foot community health center and administrative headquarters on Hope Street.
It also has reached 80 percent of its $500,000 fundraising goal for the project, six months after its public launch, thanks to the support of dozens of community- and Wheeler-connected donors. Philanthropic investments in the project now provide for a comprehensive teaching kitchen, allowing Wheeler to expand its nutrition program into Bristol. [Related Link: Invest in Bristol; Donate Now!]
Downes Construction Company of New Britain will oversee construction, Wheeler announced on Monday, August 8, with an anticipated start of construction this fall. A groundbreaking ceremony is expected in late September, with an opening anticipated for late 2023, Wheeler's 55th anniversary.
"We're honored to take Wheeler's vision and turn it into reality," said David Patrick, president of Downes. "It's meaningful for our team to help improve the lives of families and individuals in our local communities—our neighbors, friends, and colleagues—and create a flagship health center and headquarters for Wheeler, an organization that has transformed lives across Connecticut for decades."
The fundraising drive, now reaching approximately [UPDATE: November 2022: $425,000] in gifts and pledges, is led by a committee of Wheeler trustees with ties to the Bristol community, including Chairman Jim Moylan, and expects to exceed its goal within four years through community donations, corporate support, fundraising events, and planned gifts designated for the effort. Wheeler has established a $100,000 goal within that for gifts and pledges from its Board of Trustees, and $80,000 from its executive and senior leadership teams.
"We are deeply committed to serving Bristol, and we're personally showing that we're all-in," said Sabrina Trocchi, PhD, MPA, President and CEO of Wheeler. "This will be an amazing center to improve the health of the entire community, including integrating nutrition into care plans, and providing access to fresh produce. We know that healthy diet is a vital element to better health outcomes."
Through private giving toward the campaign, the health center will house the second Corsini Kitchen in a Wheeler center, in memory of Raymond Corsini of Plainville. Corsini served as a Wheeler trustee for a record 27 years. He passed away in 2017, and Wheeler memorialized his legacy by naming a kitchen for him at their Family Health & Wellness Center in Hartford. The Corsini Kitchen in Bristol will similarly serve as the hub for nutrition programming and services at the federally qualified health center, including access to fresh vegetables, thanks to an agreement with Holcomb Farm in West Granby.
Through its Centre Square project, Wheeler is consolidating services already provided on North Main Street in Bristol to realize its vision of truly integrated primary and behavioral health care under one roof. The site will combine many of Wheeler's administrative departments with a consolidation of its two existing community health centers at 10 and 225 North Main Street. More than 200 full- and part-time employees will work at the new building, which will become the organization's flagship location. It is Wheeler's first newly constructed facility since its original location in 1972.
Most of Wheeler's administrative staff will move to offices upstairs from the health center, an influx of professional roles into the downtown area. The site will also feature training room space for contracted professional development Wheeler provides statewide, as well for the community as available.
Services provided at 10 and 225 North Main Street include adult primary care, pediatrics, behavioral health and psychiatry, addiction treatment, LGBTQIA-responsive services, chiropractic care, and more, for all ages. In addition, Wheeler provides school-based behavioral health clinics in every Bristol Public School, a service that has seen dramatic growth since 2019.
LATEST NEWS ABOUT ONE HOPE STREET, BRISTOL