Supporting Outstanding Care, Staff
Every year in December, a select few Wheeler employees receive the Anna Tedesco Award in recognition of outstanding work. Since the award began in 1983, nearly 120 employees have received it, from all areas and levels of Wheeler.
The award is named for the mother of longtime trustee Fred Tedesco, whose generosity established the honor and who wanted to highlight employees who go above and beyond in their commitment to serving others.

In my time on the board, I saw so many staff doing so many great things, I just wanted to find a way to recognize them," he says. "It was so impressive to be part of Wheeler, an organization that I could see lived up to its desire to support people and that attracted employees who seemed to me to routinely exceed my expectations. The more I got involved, the more I saw the difficult nature of the work. We weren't dealing with simple issues. But everyone was so dedicated."

Fred served twelve years on the board in the 1980s, four of those years as secretary. After stepping down in 1991, he returned as the chair of the Wheeler Golf Classic in 1994, and introduced his wife, Carol, as well.
His involvement to Wheeler started with his family business, Pa-Ted Spring Company in Bristol, which employed about 150 employees nationwide. Through a business connection, he learned of Wheeler and contracted for Employee Assistance services for his employees.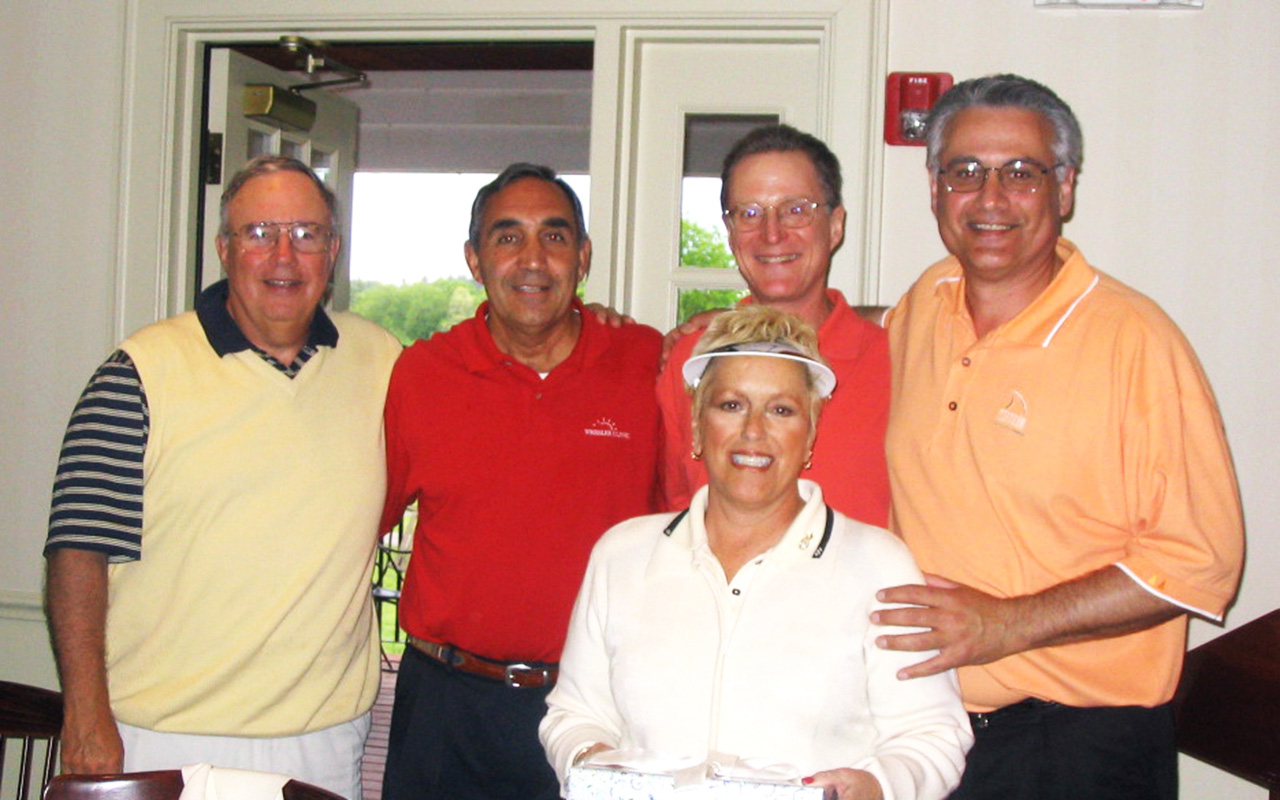 Pictured from left: Former Wheeler Board of Trustees Chairman Bryan Bowerman; Fred Tedesco; Carol Tedesco (front); Dr. David Berkowitz (back), former executive director, Wheeler; and former Wheeler Board of Trustees Chairman Ron Bucchi.
"There was a tremendous value to me for my employees to be able to go there when they needed help. In business, your employees are everything. I can specifically say that Wheeler saved the life of people who worked for me. Once I got involved, and saw what the clinic was like, I of course was happy to come on board and help as a trustee. It was a wonderful experience."
He says he was routinely impressed with Executive Director Dennis Keenan.
"Dennis was honest, which I appreciated and which I think takes a great deal of courage. He told you the truth, and was straight with you, no matter what the pressure or situation. We'd have lengthy conversations about difficult topics, and I never doubted his ability to lead, especially a team of such competent people like John [Mattas], Mary [Hess], David [Berkowitz], Elaine [Couture], Joe [Puzzo], and Jane [Bourns]. For a business owner, wow, that's really everything."
He says he is amazed at the size and scope of Wheeler today.
"Did I think that Wheeler would grow and have a bigger impact in the future? Absolutely. I never saw a person on that board who wasn't committed to helping us grow. People showed up and you knew you could count on them," he says. "But could I have seen everything Wheeler is today? No way. But I couldn't be happier. I think it's one of the greatest organizations because of its people. I'm so proud to see it."