Ribbon-Cutting and Dedication of Plainville Family Health & Wellness Center Celebrates Past, Future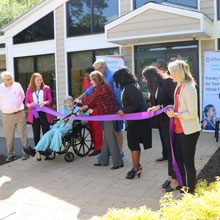 More than 60 community leaders, donors, neighbors, and Wheeler staff and trustees celebrated Wheeler's newly renovated and expanded Family Health & Wellness Center in Plainville. [See photos of the event on Facebook!]
The event honored the 50-year history of the center, where ground was first broken in October 1972 as a site focused on children's mental health services, and which has since expanded through the decades to now include a full continuum of care, including primary care for all ages. The center underwent extensive renovations in the last year to add primary care rooms, lab space, and more. In addition, Wheeler offered tours of its new Mobile Family Health & Wellness Center, which will be used for community health and outreach.
Among those in attendance for the ribbon-cutting and dedication were staff from the office of US Representative Jahana Hayes (CT–5), State Representative Whit Betts (R-78), State Representative William Petit (R-22), Commissioner of the Department of Children and Families Vannessa Dorantes, LMSW, and DCF Deputy Commissioner Michael Williams.
In addition, speaking and joining in the ribbon-cutting was Marlene Hoerle, originally of Plainville, who was Wheeler's first chair of the Board of Trustees, including during the 1972 groundbreaking.
Wheeler President and Chief Executive Office Sabrina Trocchi, PhD, MPA spoke to the crowd about Wheeler's history on Northwest Drive, sharing anecdotes passed on from some of Wheeler's original staff about the groundbreaking. She emphasized how the organization has focused on unmet community needs from the very beginning, starting with children's mental health and today, integrated primary and behavioral health care, specialized services for the LGBTQIA+ community, women, and more.
Hoerle recalled the struggle to find the right staff, clinicians, and location, which would all allow the organization to grow. She marveled at the expansion of Wheeler over the years, but also how closely its work mirrored the vision for truly integrated care they had in 1972.
Primary care services at the site now include medical and pediatric care, wellness care and immunizations; physical examinations; chronic disease screening and treatment for conditions such as asthma, diabetes, hypertension/heart health, oversight of medication-assisted treatment (MAT) for addiction, and more. An on-site Genoa Healthcare pharmacy and Quest Labs add to the offerings for patients, as does support for the basic needs of life from the donor-supported Basic Needs Fund.
"Adding primary care to a robust array of services already at this location helps to further meet the whole-health needs of patients from Plainville and surrounding communities," Trocchi said earlier this spring at the opening of the center. "We are pleased to broaden services here—the original site of Wheeler's first mental health outpatient clinic since 1972. Even at that time, our prescient leaders had a vision for integrating care to promote overall health for the individuals and families we serve."
Wheeler began transformation of services at the Northwest Drive facility following this site's designation as a federally qualified health center in the last year. Wheeler's Plainville location is the organization's fifth community health center. Other centers are located in Bristol, Hartford, New Britain, and Waterbury. Wheeler's community health centers are among 1,300 federally qualified health centers across the country – a frontline network of whole-person health care that keeps nearly 30 million Americans well.
In addition to primary care, a full array of services is offered at the 91 Northwest Drive location, including:
For more information, visit www.WheelerHealth.org/Plainville. To schedule an appointment, call 888.793.3500 (toll-free) or 860.793.3500.