Primary Care Services Now Offered at Wheeler's Family Health & Wellness Center, 91 Northwest Drive, Plainville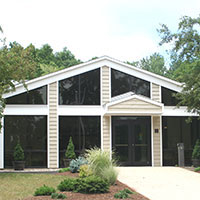 Wheeler's Family Health & Wellness Center at 91 Northwest Drive, Plainville, is now offering primary care for all ages. Services include medical and pediatric care, wellness care and immunizations; physical examinations; chronic disease screening and treatment for conditions such as asthma, diabetes, hypertension/heart health, oversight of medication-assisted treatment (MAT) for addiction, and more.
Learn more about services here.
Call 888.793.3500 or 860.793.3500
"Adding primary care to a robust array of services already at this location helps to further meet the whole-health needs of patients from Plainville and surrounding communities," said Sabrina Trocchi, PhD, MPA, president and chief executive officer, Wheeler. "We are pleased to broaden services here—the original site of Wheeler's first mental health outpatient clinic since 1972. Even at that time, our prescient leaders had a vision for integrating care to promote overall health for the individuals and families we serve."
Primary care will be initially offered at this location on Mondays and Wednesdays between 9 am to 5 pm, and walk-in care for medical services is available on Mondays and Wednesdays between 9 am and 3 pm, expanding as the need increases.
Walk-in access for other services, including behavioral health and addiction treatment, is offered here on Monday through Friday from 9 am to 3 pm.
The 91 Northwest Drive location is also open on Tuesdays until 8 pm for on-site behavioral health appointments only.
Wheeler began transformation of services at the Northwest Drive facility in September 2020, following this site's designation as a federally qualified health center. Wheeler's Plainville location is the organization's fifth community health center. Other centers are located in Bristol, Hartford, New Britain, and Waterbury.
In addition to primary care, a full array of services is offered at the 91 Northwest Drive location, including:
Created in 1968 to serve the mental health needs of children in Plainville, Wheeler has grown today to approximately 1,000 staff and three-dozen locations across the state, serving more than 50,000 individuals, families, and communities annually.
Wheeler's community health centers are among 1,300 federally qualified health centers across the country – a frontline network of whole-person health care that keeps nearly 30 million Americans well.
For more information, visit www.WheelerHealth.org/Plainville. To schedule an appointment, call 888.793.3500 (toll-free) or 860.793.3500.