A Lifetime of Innovation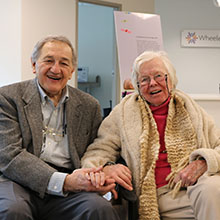 Wheeler's driving vision of innovation has long been supported by similarly visionary donors, and there are few who fit that description better than Mary Fran and Peter Libassi.
Mary Fran served on Wheeler's Board of Trustees for 13 years, including time as both the chair and vice-chair. Her time in leadership was instrumental, as the organization completed strategic planning that carried it forward a decade and smoothly transitioned executive directors from Dennis Keenan to David Berkowitz.

A social worker, groundbreaking researcher, and professor at the UConn School of Social Work, Mary Fran established the Mary Fran Libassi Education and Training Fund with her husband, Peter, to support education and training of social work students and Wheeler professionals from 2000 to 2014. During that time, 14 scholarships were awarded to second-year UConn students completing field placement at Wheeler, and nearly 100 employees received training in evidence-based approaches to care. The fund also supported an expansion of an internship program for bilingual students, allowing Wheeler to build a more diverse workforce.
At the time, Mary Fran said the couple's philanthropy was ultimately about creating change.
"This contribution supports Wheeler's commitment to nurture change and create new approaches to care and service delivery based on the needs of the community," she said. "When you see something in the world that needs to change, you have a responsibility to help shape and drive that change. Not every idea will be successful, but it's critical to make the effort."
Mary Fran's personal commitment to the future of social work was impactful on everyone who worked with her.
"For decades, in her role as a professor at UConn, Mary Fran nurtured countless master's interns at Wheeler. She was always committed to helping students succeed in placements. Similarly, as a trustee and officer, she was devoted to the success of the organization, particularly its staff," says former staff member Mary Hess. "She continues to be a dear friend and mentor."
The Libassis' vision carried forward in 2016, with a commitment of a $500,000 legacy gift to Wheeler to establish the Libassi Endowment Fund for Innovation. The Libassi Endowment fund is part of the Wheeler Fund for Innovation, designated to advance innovative approaches to care and service delivery as well as other initiatives across the organization.
The support provided is already paying dividends, through new and innovative approaches to pain management and wellness, such as yoga and other alternative and complementary medicines.
Peter is a visionary in his own right. A retired attorney and leader in the Hartford corporate and non-profit communities, he served in both the Kennedy and Johnson administrations, working on the forefront of civil rights issues in the turbulent 1960s. His passion in supporting systemic change and improving health outcomes carries through his life, and believes the innovation fund is the perfect vehicle for change at a forward-thinking organization like Wheeler.
"This fund is designed to catalyze major shifts in organizational processes and activities," said Peter in 2016. "It will allow Wheeler to create new programs to meet the needs of individuals and families, cultivate workforce and organizational development, and implement efforts to test and measure change."
"Philanthropists and friends like the Libassis enable us to take intelligent risks, try new approaches, grow, and, ultimately, improve care and outcomes for everyone we serve," says Susan Walkama, LCSW, Wheeler president and chief executive officer. "The Libassis have always been partners at the forefront, encouraging us to dream and succeed."