Leave Your Creative Legacy at Our New Bristol Community Health Center!
Design a Brick for One Hope Street
Individuals and families are invited to submit a brick design to be considered for display at One Hope Street, Bristol, when Wheeler's new community health center opens. As part of our 55th Anniversary celebration, five winning designs will be selected on September 30, 2023, and winners will get an actual brick on which to paint their design.
Click here or on the flyer below for details.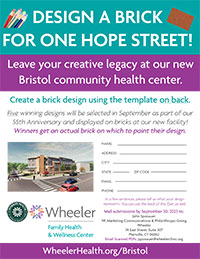 Learn more about Wheeler's Bricks for Hope campaign.
---
Submissions must be mailed to sent by September 30, 2023 to:
John Sponauer
Vice President of Marketing Communications & Philanthropic Giving
Wheeler Health
74 East Street,
Suite 307
Plainville, CT 06062
Scanned PDFs can be emailed to: jsponauer@wheelerclinic.org