Dr. Rebecca Eleck Named Wheeler's Primary Care Medical Director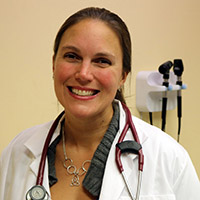 Rebecca Eleck, MD, has been named primary care medical director of Wheeler. In this role, Dr. Eleck oversees the delivery of primary care services for adults, children, and families through Wheeler's Health and Wellness Centers in Bristol, New Britain, and Hartford. She also provides clinical oversight and management of clinical performance outcomes and direct clinical supervision to providers, and provides direct primary medical care to patients across the lifespan. Dr. Eleck joined Wheeler in 2016 as a family practice physician for the Wheeler Health & Wellness Center in Bristol.
Dr. Eleck is a board-certified family physician with a special interest in medication-assisted treatment for alcohol and opioid addiction. She attended the University of Connecticut School of Medicine and completed her family medicine residency at Middlesex Hospital. Dr. Eleck also has a special interest in global health and has worked in Haiti, Guatemala, and Honduras.