Centre Square - Questions and Answers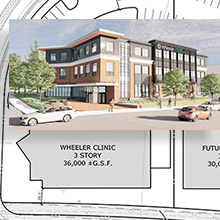 Additions:
Monday, February 7, 2022 2:45 PM
Question was asked if Wheeler provides methadone. No, and the answer is listed below.
Monday, February 7, 2022 5:45 PM
Clarified the role of tax abatement in comparing Wheeler's purchase price with a for-profit business paying taxes.
Over the weekend, we've been keeping up with several Bristol Facebook groups that are discussing the bipartisan, unanimous vote by the Economic and Community Development Commission to approve our revised plans for Centre Square. We're thrilled that the conversation has been so supportive, and we'd like to address a few points we've seen mentioned, prior to the Tuesday, February 8 meeting of the City Council discussing this matter.
Have a question for us? Ask it at info@wheelerclinic.org. We'll do what we can to answer it on this page, and update the revision date and note the question.
First, in case you haven't seen it, please read our Open Letter to the Bristol Community.
"I'd rather have a business in Centre Square that pays taxes."
We understand, which is why we agreed to a premium $600,000 price for the new smaller lot (the same price we were going to pay for the larger lot we originally considered, by the way).
In addition, a for-profit business or development on that same property would not pay the full amount of property taxes for up to a decade if awarded a tax abatement. Therefore, the $600,000 sales price would probably exceed whatever taxes would otherwise be generated over the first several years by a for-profit entity due to the potential of a lengthy tax abatement term.
We have a shovel-ready project and are ready to pay now.
"We need more restaurants and other stores downtown instead."
We'd love to see more restaurants and other stores downtown, as well!
Which is why, after the vote in December that rejected our first proposal, we compromised and moved to an adjacent, smaller plot of land in Centre Square (for the same price), which frees up the original property for that kind of retail / entertainment use. We'd love to see a thriving business go there. Our staff and patients would likely patronize that business.
We live, work, and play in Bristol and have been downtown for decades...we want a better, stronger, more vibrant city! The entire Centre Square property has been vacant for too many years. We remember the mall, and we have seen too many businesses come and go.
In addition to the large space we shifted from, there is also ample room for new stores and other businesses in the new residential properties in the area, and in the Centre Square area.
"Will this create jobs?"
If our plan is approved, we will consolidate our two existing health centers in Bristol into this one location. We will also bring our corporate headquarters into Bristol, which represents more than 160 other jobs, mostly professional and administrative positions like IT, finance, marketing, human resources, quality, and other functions.
In addition, there is obviously the benefit of the construction-related jobs that would be part of our project as it is being built.
"What's the rush?"
This has not been a rushed project, but rather one more than a year in the making. To manage a plan that involves both of our health centers, and multiple administrative spaces, is a juggling act of leases, timing, approval and available funds. We had originally hoped for an approval in September 2021, with groundbreaking before winter.
We have also been in a silent phase of a $500,000 fundraising campaign for the better part of a year, and have raised or had pledged approximately $280,000 in that time, heavily bolstered by donors in the Bristol community, which we will continue to seek.
This is a unique opportunity and time for both Wheeler and the city.
"Why can't you build somewhere else?"
As noted in our Open Letter to the Bristol Community, since the December 14 vote, we have looked at about ten different locations for a consolidation of our two health centers and our administrative headquarters. With one exception, which is not for sale despite us asking, they are:
Not in a location that would be approved by the US Health Resources and Services Administration for a health center
Too big
Too small
In need of too much remediation
"How is this going to help downtown?"
In 2021, the city's consultants estimated in a draft report that our move would generate between $100,000 to $250,000 in annual revenue from our new, larger staff presence downtown.
Our staff eat local, shop local, buy gas local, go out after work local, run errands local, buy local, contract local. So do the people who come to us for care, trainings, meetings, and more.
"This is a project from the last administration in Bristol."
It's true we've been working on these plans for more than a year, now across two administrations, because that's how long projects like this take. However, our plans have been approved twice by a bipartisan Economic and Community Development Commission and it is supported by Mayor Caggiano. In addition, Councilman Panioto voted to support our previous plan in December. The emails and phone calls we've received from community leaders and friends since December 14 indicate to us that there is broad support for our project.
We have worked very, very closely with Bristol's professional and volunteer Economic and Community Development team at every turn.
And we have always operated in good faith with the city. This is not a partisan exercise.
We heard concerns, considered our options, and compromised.
"What if you get a 'no' vote on Tuesday, February 8?"
We will still look for sites downtown that can accommodate a combined health center in Bristol. Our current configuration of two centers is not sustainable for our model of integrated health care, and we are deeply committed to serving the city, as we have for decades. Our donations pledged or raised to date will help support that project.
We will consider our options for our corporate headquarters in communities around Bristol. The first December 14th vote was noticed by surrounding communities interested in housing Wheeler's headquarters.
"Does Wheeler provide methadone here?"
Wheeler has never held, does not have, and does not seek, a license to provide methadone in this location or any of its outpatient locations. It's simply not a service we provide.

"I don't want patients coming downtown."
Lastly, a few words about several comments we've seen about not wanting patients coming downtown.
At our health centers, we provide many, many services, like primary care, pediatrics, nutrition, chiropractic care, behavioral health care, addiction treatment, and more.
Our patients in our Bristol centers are mostly Bristol's children, students, families, friends, and neighbors.

For example, in the last several months, we've seen more than 300 new referrals from our school-based health centers alone.
Each one of these kids is a potential future mayor of Bristol, a future business leader, a future parent, a future community leader, a future Council member.

Our patients already come downtown for care at our two health centers.
They have been for a decade.
They will for decades more. We're not moving our centers out of the city.
At a time where we are seeing heightened mental health crises, particularly among our children and adolescents, as documented in our own Bristol community where we've seen the demand for school-based behavioral health services increase 146% since the end of 2019, we need to stop the social stigma and discrimination that prevents individuals from seeking and obtaining the care they need.

It is 2022, and it seems counterintuitive that we feel the need to state this, but there is not a family in America that does not need medical care, behavioral health care, or addiction services.
Have a question for us? Ask it at info@wheelerclinic.org. We'll do what we can to answer it on this page, and update the revision date and note the question.
LATEST NEWS ABOUT ONE HOPE STREET, BRISTOL