$100,000 Gift Supports Plainville Students, Bristol Health Center
Wheeler has received a $100,000 gift supporting its campaign for a new health center in Bristol, as well as numerous programs benefiting students at Northwest Village School in Plainville.
The gift is from the estate of Hall "Cap" Adams, Jr., a longtime philanthropic investor in Wheeler's work. Adams passed away in Illinois in June 2020 after a notable and generous life, including a nationally recognized career in advertising. Working with his estate, two priorities quickly emerged that honored his life's legacy and passion for providing others with opportunities for good health and quality education.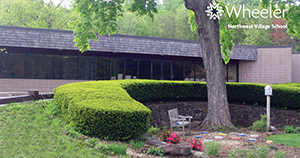 Half of the gift supports Wheeler's fundraising campaign in Bristol, helping to fund the construction of a new community health center and administrative headquarters. The other half will support students at Northwest Village School (NVS) in Plainville, a therapeutic day school serving students K-12th grade and a post-graduation transition program for students up to age 21. At NVS, Cap's legacy will carry on through an outdoor fitness trail for students, as well as through the Samuel Marszycki Scholarship, which supports graduating seniors pursuing post-secondary education. Finally, the gift supports the Basic Needs Fund at the school, which provides immediate help for the basic needs of life for students and their families, providing support that is not available through other means.
"Cap's life was devoted to helping others achieve educational and health goals," said Sabrina Trocchi, PhD, MPA, Wheeler's president and CEO. "We're honored that his legacy lives on in our work helping patients stay healthy and well, and helping students and their families thrive. It's the perfect representation of what he lived for."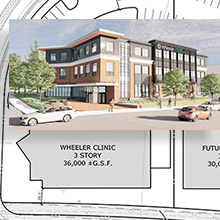 Wheeler's new health center and administrative headquarters in Bristol was approved by the City Council in February. The project consolidates Wheeler's two existing health centers in the city and helps to anchor the downtown Bristol Centre Square development with professional jobs and accessible health care for the entire community. The public phase of the four-year fundraising campaign was announced at the same time, and now stands at [UPDATED: November 2022] $425,000 out of a $500,000 goal. An educational training area in the center will be named in honor of Adams to represent and continue his love of learning.
The Samuel Marszycki Scholarship is named in honor of a former paraprofessional at Northwest Village School who passed away in June 2020. It was established by family and friends in 2021 in Marszycki's memory and is supported through donations and the annual Sam-O Scramble Golf Tournament, which will celebrate its second anniversary this September. Its first award in 2021 helped support a graduating NVS senior who went on to study at a local community college.
The Basic Needs Fund at Northwest Village School helps students and families with unexpected and pressing basic needs of life, and has been used in the past for offsetting unexpected medical costs, food assistance, and help during the holidays. A similar fund at Wheeler's five federally qualified health centers has helped more than 5,500 individuals and families since 2018.
LATEST NEWS ABOUT ONE HOPE STREET, BRISTOL