Nutrition Services
Meet Your Nutritionist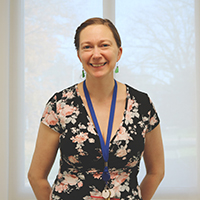 Jessica Masterson, RDN, CDN, CDCES, is a registered dietitian nutritionist and certified diabetes educator. She has worked in the nutrition and culinary field for more than 15 years and is passionate about good food and the healing ability of good nutrition.

Her background includes providing medical nutrition therapy (MNT) in a hospital and community setting for groups and individuals. She also has experience as an adjunct nutrition professor, culinary instructor, diabetes educator, and clinical sales specialist.
A nutritionist can give you tools to help treat or improve: Diabetes
Cardiovascular Disease
High Blood Pressure
Mental Health
Food Relationships
Food Allergies and Sensitivies
And More!
Services offered: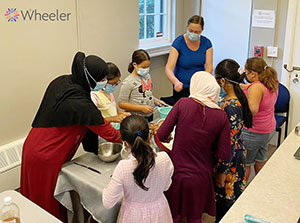 Pediatric Nutrition Education
Adult Nutrition Education
One-on-One Nutrition Counseling
Nutrition Education Classes
Children's Healthy Cooking Class, provided to the community free through the support of Corsini and Brantner Families.
---

Join us this spring for pediatric hands-on & virtual nutrition/cooking class at Wheeler's Family Health & Wellness Center taught by Jessica Masterson, RDN, CDN, CDCES, registered dietitian nutritionist and special guest Abbe Carreira, RDH, CDA.
Spring 2022 Class Schedule
March 14: Everything Green
Super Green Dip*
Green Veggie Loaded Pesto Pasta
March 28: Hello Spring
Veggie Spring Rolls*
with a dipping sauce
Zucchini Carrot Muffins
April 11: April Fool's Food
Macaroni and "Cheese" *
Chocolate Brownies
Meringue Cookies*
April 25: Getting Opposites to Attract
Maple Balsamic Dressing*
Raspberry Vinaigrette*
Avocado Green Goddess
Make Your Own Dressing*
Kale Salad*
May 9: Who Wants Chocolate?
Chocolate Biscotti*
Chocolate Fruit Dip
May 23: Taco Day
Tacos
Fruit Tacos
Homemade Salsa and Guacamole
June 13: Berry Sweet Strawberry Season
Strawberry Fruit Leather*
Strawberry Chia Jam*
Strawberry Bruschetta
June 27: Farmers Market Pizza
Pizza Dough
Tomato Sauce *
July 11: Frozen Treats
Banana Nice Cream*
Chocolate Avocado Pudding Pops*
Shake the Can Fruit Sorbet*
July 25: Let's Have a Picnic!
Fruit Kabobs * and Dip
Pinwheel Sandwiches
Potato Salad*
*These recipes are allergy-friendly and free from dairy, wheat, soy, tree nuts, peanuts, fish, shellfish, sesame, and eggs.
All recipes can be modified to meet child's capabilities.
Please let the instructor know of any food allergies prior to attending class.
Email Jessica or call at 860.224.6340 to register or with any questions.
Click Here to View Past Virtual Cooking Classes
---
NBC Connecticut Covered Our First Toddler Nutrition Class on March 12. Watch and listen below. Online text news story here.
On April 9, the cooking demonstration focused on kid-friendly breakfast ideas that children can help make, and the educational talk will be the dreaded topic so many parents struggle with: what to do if your child is a picky eater!
Supervised kids' activities for children are provided
A free gift is available for all participants after every class
Anyone attending three classes can receive a $50 grocery store gift card
Pre-registration is not required, but strongly recommended by RSVPing to Jessica Masterson at JMasterson@Wheelerclinic.org.
Wheeler's nutrition programs help patients and the community fight chronic disease and achieve wellness through consultation, education, and individual counseling for children, adults, and families, focusing on how healthy diet can address:
Feeding issues
Failure to thrive
Medical nutrition therapy for HIV/AIDS
Weight concerns
Diabetes
Hyperlipidemia
Sports nutrition
Digestive disorders
Food allergies
And more!
Wheeler's Family Health & Wellness Center is a community health center that provides medical and dental care for the whole family, as well as behavioral health care and a range of alternative and complementary medicine such as chiropractic care and more. Our doctors, medical assistants, clinicians, counselors, and care facilitators work side-by-side as a team to meet your complete health care needs, in one location.
News from Wheeler's Registered Nutritionist