Nutrition Services
Meet Your Nutritionist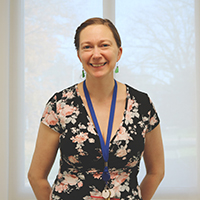 Jessica Masterson, RDN, CDN, CDCES, is a registered dietitian nutritionist and certified diabetes educator. She has worked in the nutrition and culinary field for more than 15 years and is passionate about good food and the healing ability of good nutrition.

Her background includes providing medical nutrition therapy (MNT) in a hospital and community setting for groups and individuals. She also has experience as an adjunct nutrition professor, culinary instructor, diabetes educator, and clinical sales specialist.
A nutritionist can give you tools to help treat or improve: Diabetes
Cardiovascular Disease
High Blood Pressure
Mental Health
Food Relationships
Food Allergies and Sensitivies
And More!
Services offered: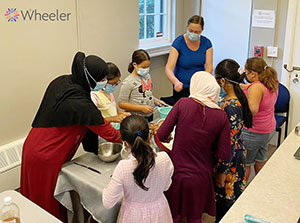 Pediatric Nutrition Education
Adult Nutrition Education
One-on-One Nutrition Counseling
Nutrition Education Classes
Children's Healthy Cooking Class, provided to the community free through the support of Corsini and Brantner Families.
Free Healthy Family Recipes
ALLERGY FRIENDLY CHOCOLATE CRANBERRY BISCOTTI
Kids can help measure and combine ingredients. They will also have fun shaping the loaves. Once the cookies have cooled after slicing, allow the kids to place them back on the cookie sheet. Let them dip the cookies into melted chocolate and add embellishments like sprinkles or chopped nuts. Click HERE for the recipe.
Kids can mix the tomato mixture once an adult has helped to chop the peppers and tomatoes. They can easily prepare the ricotta mixture. Allow them to rub the toasted slices of bread with garlic and let them get creative distributing the ricotta and tomato mixture on to the bread slices. Click HERE for the recipe.
Kids will have fun tearing the kale into bite-size pieces. Allow the kids to shake the dressing in a mason jar or mix in a bowl. Click HERE for the recipe.
Kids can make this recipe on their own once the fruit is washed and cut. Older children can help prepare the fruit. Let kids come up with their own flavor combinations by setting up a "taco" bar. Click HERE for the recipe.
---

Join us this fall for pediatric hands-on & nutrition/cooking class at Wheeler's Family Health & Wellness Center taught by Jessica Masterson, RDN, CDN, CDCES, registered dietitian nutritionist and special guest Abbe Carreira, RDH, CDA and Kat Durkin.
FALL 2022 Class Schedule
September 12: Start off right, have breakfast!
Monkey Bread
Chia Seed Pudding*
Egg Omlet Muffins
September 26: All About Baking
Wacky Cake Cupcakes*
Whole Grain Soda Bread
Spiced Carrot Muffins
Flavored Cream Cheese and Butter Compotes
October 10: Kids Make Dinner
One Pot Pasta and Tomato Sauce
Lentil "Meat" Balls*
Garlic Bread
October 24: Chocolate!
Chocolate Biscotti*
Chocolate Fondue
Hot Chocolate
November 7: Soups On!
Carrot Ginger Soup
Chicken Vegetable Soup*
Roasted Red Pepper and Tomato Soup
Croutons
November 21: Thanksgiving Sides
Four Bean Salad*
Roasted Cauliflower*
Butternut Squash
Drop Biscuit
December 5: Whole Grains
Quinoa Grain Bowl*
Baked Polenta Fries*
Faro Salad*
December 19: Let's Celebrate – Cookie decorating party!
Cookies
*These recipes are allergy-friendly and free from dairy, wheat, soy, tree nuts, peanuts, fish, shellfish, sesame, and eggs.
All recipes can be modified to meet child's capabilities.
Please let the instructor know of any food allergies prior to attending class,
we are not an allergen-free kitchen.
Email Jessica or call at 860.224.6340 to register or with any questions.
Click Here to View Past Virtual Cooking Classes
---
NBC Connecticut Covered Our First Toddler Nutrition Class on March 12. Watch and listen below. Online text news story here.
On April 9, the cooking demonstration focused on kid-friendly breakfast ideas that children can help make, and the educational talk will be the dreaded topic so many parents struggle with: what to do if your child is a picky eater!
Supervised kids' activities for children are provided
A free gift is available for all participants after every class
Anyone attending three classes can receive a $50 grocery store gift card
Pre-registration is not required, but strongly recommended by RSVPing to Jessica Masterson at JMasterson@Wheelerclinic.org.
Wheeler's nutrition programs help patients and the community fight chronic disease and achieve wellness through consultation, education, and individual counseling for children, adults, and families, focusing on how healthy diet can address:
Feeding issues
Failure to thrive
Medical nutrition therapy for HIV/AIDS
Weight concerns
Diabetes
Hyperlipidemia
Sports nutrition
Digestive disorders
Food allergies
And more!
Wheeler's Family Health & Wellness Center is a community health center that provides medical and dental care for the whole family, as well as behavioral health care and a range of alternative and complementary medicine such as chiropractic care and more. Our doctors, medical assistants, clinicians, counselors, and care facilitators work side-by-side as a team to meet your complete health care needs, in one location.
News from Wheeler's Registered Nutritionist