​Wheeler Receives 2017 HRSA Quality Improvement Award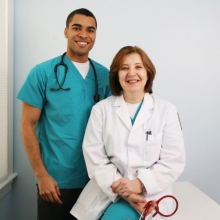 Wheeler received a 2017 Quality Improvement Award from the Health Resources and Services Administration (HRSA) in the amount of $66,449. The award—given to more than 1,300 health centers across the country for achievements in 2016—supports continued improvement at health centers based on high levels of performance in key areas. Wheeler was recognized for exceptional performance in electronic health reporting, notable improvement in clinical quality outcomes; increases in the number of total patients served and number of patients receiving comprehensive services between 2014 and 2015; and for obtaining Patient-Centered Medical Home (PCMH) recognition.
"Federally qualified health care centers play a critical role in delivering high-quality integrated health care to individuals and families who need it the most," said Susan Walkama, LCSW, president and chief executive officer, Wheeler. "We are grateful for this recognition and for the opportunity to be part of a comprehensive effort that serves our most vulnerable populations.
"The awards were announced by HRSA during National Health Center Week (August 13-19), which recognizes the contributions that health centers make across the nation, particularly in low-income and medically underserved communities. Health centers, including Wheeler's centers in Bristol, New Britain and Hartford, serve over 25 million Americans at more than 9,000 sites across the country, reducing health care costs, improving quality outcomes and improving access to health care for all.
The Health Resources and Services Administration (HRSA), an agency of the U.S. Department of Health and Human Services, is the primary Federal agency for improving health care to people who are geographically isolated, economically or medically vulnerable. More about HRSA here.
For information about the HRSA's Quality Improvement Award program, click here.
For information about Wheeler's Health & Wellness Centers, click here.