Wheeler and Holcomb Farm Expand Agreement, Providing Farm-Fresh Produce for Patients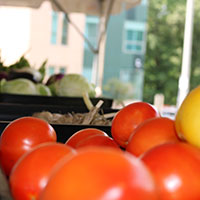 Patients at Wheeler's four community health centers will have access to farm-fresh produce, thanks to a $12,000 commitment from Wheeler through private donations and a $12,000 matching gift from The Friends of Holcomb Farm through their Fresh Access Program. This expansion builds on an existing agreement, which, for the past two years, has provided approximately two tons of healthy produce annually to Wheeler patients at 43 Woodland Street in Hartford and for use at the Corsini Demonstration Kitchen on the same campus at 49 Woodland Street.
"Many of our patients do not have access to affordable fresh produce near where they live, and regularly consume food high in carbs and low in protein, fiber, and vitamins, which often results in high rates of obesity and related diseases such as diabetes and hypertension," said Sabrina Trocchi, PhD, MPA, president and chief executive officer, Wheeler. "This expanded agreement, part of a broader nutrition program at Wheeler, now serves patients at our four community health center locations and for a longer period of time, from June through November, helping to meet basic needs, while introducing individuals and families to positive food choices."
"We're excited to expand our partnership with Wheeler to help meet the needs of individuals and families in central Connecticut and Greater Waterbury," said Mark Fiorentino, vice president of The Friends of Holcomb Farm. "All people should have access to fresh, nutritious food, which, in turn, supports overall health."
Holcomb Farm
Holcomb Farm is a 312-acre working historic farm located in the heart of West Granby, Connecticut. The farm is operated collaboratively by the Town of Granby and a Board of Directors comprising local citizens. Visit Holcombfarm.org
Holcomb Farm's Fresh Access Program
Each year, The Friends of Holcomb Farm donates more than eight tons of healthy produce to over 1,000 people through its Fresh Access program, nearly $25,000 worth of nutritious, local produce. Through this program, The Friends of Holcomb Farm serves two populations: food-insecure individuals and families who have trouble affording or accessing healthy food, and individuals and families who are struggling with a health crisis.
Nutrition Programming at Wheeler
The partnership with Holcomb Farm is part of Wheeler's overall nutrition program, which was launched in 2018 with the opening of the Wheeler Family Health & Wellness Center in Hartford. The program includes an on-staff nutritionist who serves on Wheeler's integrated care team, assisting patients with diet, diabetes management, nutrition counseling, and more. In addition, child and youth nutrition classes attract patients and their families for interactive cooking demonstrations and lessons in healthier recipes, addressing food allergies, and related topics. Sessions are held at the Corsini Kitchen, on the campus of the community health center, thanks to the philanthropic support of the Corsini and Brantner families. Raymond Corsini was Wheeler's longest-serving trustee, and was passionate about food, gardening, cooking, and healthy diet.