Trustee Tucker Childs: Building a Foundation for Meaningful Change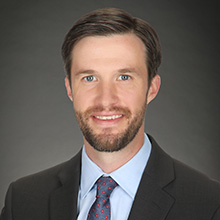 Joining the Board of Trustees in September 2023, Tucker Childs, CFA, CFP®, brings to the role both a deep perspective of financial management and a passion for serving the local community.
A native of Georgia, Childs has lived in Connecticut since 2013, where he is the director of wealth planning as well as a portfolio manager at Hartford-based Bradley, Foster & Sargent, Inc. Seeing a direct link between his personal values and Wheeler's enduring service to the community, Childs looks forward to board service and corresponding role on the Finance Committee, where he will leverage his professional background to assist Wheeler with strategic growth in finance and operations.
"Service to people and community are core values of mine. When organizations are doing good work, and putting people and families at the center, it is hard not to want to get involved," he says. "[Wheeler Trustee] Charley Herbert introduced me to Wheeler, and I was just blown away by the range of services offered and the sheer number of lives they impact each year. It was immediately clear to me that supporting Wheeler's mission, vision, and values was something I wanted to be part of."
Complementing his work with Wheeler, Childs is involved in several professional associations and in advancing financial literacy in the Hartford region. Through Leadership Greater Hartford, he is part of Quest, which unites high-performing, mid-career professionals from many different sectors—nonprofit, government, education, business—around the idea of growing stronger together through collaborative leadership and social responsibility. Participants connect with the community to identify needs and form diverse task forces to address these needs. In addition, he assists the Hartford CFA Society in Financial Literacy Days at schools in Hartford, helping students to be prepared for financial success, and serves on the program committee for the Estate and Business Planning Council of Hartford.
"Organizations need thoughtful, mission-aligned boards that will help them navigate the financial security needed to continue their life-changing work," he says. "There are no shortages of issues and needs in the state, from poverty, racism, health care inequity, and much more. The work that Wheeler does today serves as a foundation where meaningful change can occur tomorrow, in individuals, families, and the communities we serve."