State Managers Support Wheeler as Selected Charity of Annual Humanitarian Donation Campaign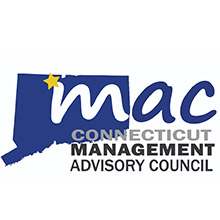 The Management Advisory Council of the State of Connecticut is choosing Wheeler Health as their selected 2022 beneficiary of the group's annual humanitarian campaign.
MAC comprises 1,200 non-union state managers, across every state department. Each year, the group chooses a philanthropic priority to support, and the 2022 focus is mental health, with Wheeler selected as the final charity of choice. MAC members are now making individual donations toward the campaign, which runs from September through December. [RELATED: MAC members and the public can support the campaign at this link]
Wheeler President and Chief Executive Officer Sabrina Trocchi, PhD, MPA, addressed MAC members during their annual Managers' Day, on October 13th at the Aqua Turf Club, thanking them for their generosity this season and hard work year-round.
"Across the state, every day, MAC members ensure that vital services are delivered and that Connecticut's residents continue to receive the highest-quality public service," she said. "Our state's managers can see the role that accessible, effective mental health care plays in making the state healthier and better for everyone, and we're honored to be the 2022 recipient of their philanthropic investments."
The Management Advisory Council was created by Executive Order #6 in 1983. The purpose of the Council is to advise the Commissioner of Administrative Services and the Secretary of the Office of Policy and Management regarding the needs of State managers, including career development, benefits and training. The Council was also directed to focus on quality of State government and to provide mechanisms for the exchange of ideas among managers.