Spotlight on Former Board Chairman Steve LeFebvre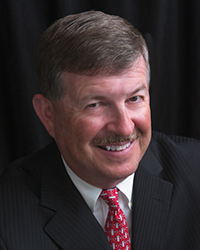 Wheeler's Annual Golf Classic, now in its 33rd year, often provides an opportunity for business and community leaders to learn more about the organization. This was the case for Steve LeFebvre, former chief operating officer of the East Berlin-based manufacturer Fletcher Terry, who played in the golf event at the suggestion of Ed Lorenson, one of Wheeler's longest-serving and dearest volunteers. For more than four decades, Mr. Lorenson and the entire Lorenson family have been steadfast supporters of the mission, nearly from Wheeler's very beginning.
"Ed thought highly of Wheeler," said LeFebvre, now chief financial officer at Jones Companies. "As I got to know the organization better, I more clearly understood why."

Mr. LeFebvre said he was initially inspired to become more involved with Wheeler after touring the organization's Northwest Village School, a therapeutic day school designed for students ages 4-21 with special education needs who exhibit complex social, emotional, learning and/or behavioral challenges.
"I saw how well these students were cared for, and I was impressed with the caliber of professionals at the school," he said.
In addition to golf, Mr. LeFebvre served on the Board of Trustees' Finance Committee, and eventually as chairman of the board. Under his leadership, Wheeler opened a community health center in Bristol; completed major renovations at Northwest Village School, including new multi-purpose room/gymnasium, media center, literacy lab and updated classrooms; and acquired property at 43 Woodland Street, Hartford, the site of another community health center, the Wheeler Family Health & Wellness Center, which opened in January 2018. He also played a strong supporting role in Wheeler's Evening of Wonder galas.
Mr. LeFebvre appreciates how well Wheeler operates and serves the community. "Wheeler reaches the underserved and does so in compassionate, cost-efficient way.This organization—and its team—are first rate, and individuals, families and communities are, without question, better for it."