Psychiatric Services Growing Through Spravato and Other New Therapies, Psychiatrist Scott Berman, MD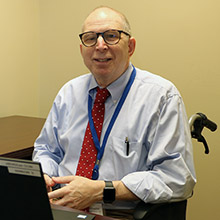 Wheeler's Family Health & Wellness Center psychiatric services are growing through additional treatment techniques offered, including Transcranial Magnetic Stimulation (TMS), Spravato (Esketamine) therapy, and the addition of a new and highly experienced psychiatrist, Scott Berman, MD.
Michael P. Twist, DO, Psychiatric Medical Director, notes that his focus is keeping Wheeler at the forefront of cutting-edge treatments in our integrated, community-based approach to wellness.
Dr. Twist spoke to the vision for his department's continued growth as "having a unique ability to offer the latest psychiatric treatment techniques in order to provide and maintain the greatest outcomes in overall wellness for our patients. Under one roof, we're able to provide incredibly effective forms of treatment like Spravato in the same visit a patient may see their dentist, their child may get pediatric care, and even leave with a bag of fresh produce through nutrition services. It's wonderful to be a part of an organization that offers such a broad range of humanistic care to its patients and families."
Dr. Berman returned to Connecticut after most recently practicing for more than 20 years in Pennsylvania. He was attracted to Wheeler in part because of its integrated approach to health and focus on innovating care through evidence-based practices. He will be assisting in providing the department's newer offerings like TMS, an FDA approved noninvasive and clinically proven treatment for depression, which also shows strong benefits for anxiety disorders including Obsessive-Compulsive Disorder. He is also a proponent of Wheeler's Spravato program, a Ketamine-based treatment which was approved by the FDA in 2019 for treatment-resistant depression which has demonstrated extremely high success rates in achieving remission of symptoms.
Wheeler is proud to offer Spravato® therapy, a new and highly effective treatment for patients suffering with depression. It is available at Wheeler at our Family Health & Wellness Center at 43 Woodland Street, Hartford, where we have a specially designed suite devoted specifically for patients receiving Spravato®.
In addition, he is a strong advocate for medication-assisted treatment for addiction including Suboxone (Buprenorphine / Naloxone) for opioid use disorders and Vivitrol for alcohol use disorders, which Wheeler offers in all of its Family Health & Wellness Centers.
"Focusing on a team approach to care is very important to me," Berman says. "In terms of primary care, we have an increased awareness today that we didn't when I started medicine, that in order to maintain health in patients receiving psychiatry, we have to treat conditions like obesity, Diabetes, and heart disease. Integrated psychiatry means that medication is a very small part of what I do; psychotherapy makes a huge difference for long-term wellness."
Berman's approach to care, particularly around chronic disease is informed by his lived experience. He has used a walker and wheelchair for more than 24 years due to Chronic Inflammatory Demyelinating Polyneuropathy (CIDP) and says his condition informs his practice and knowledge.
"I understand firsthand how it is for patients to navigate their life with a chronic health condition, how you work to not have your illness define you and who you are."
A self-professed "big psychiatry nerd," Dr. Berman says he is an avid reader of the latest psychiatric research and is fascinated by recent advances in the field. He received his Doctor of Medicine from the Virginia Commonwealth School of Medicine, and is currently seeing patients at Wheeler's Family Health & Wellness Centers in Bristol and New Britain.