Positive Beats: Wheeler Speech Pathologist, Anne Davis, Employs Techniques to Unlock Trauma, Inspire Learning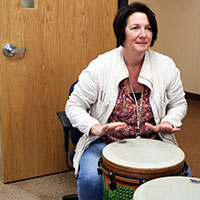 NOTE: May 18 is National Speech Pathologist Day, an observance that celebrates professionals who specialize in the evaluation, diagnosis, and treatment of communication, voice, and swallowing disorders. Anne Davis, MA, CCC-SLP, a speech pathologist at Wheeler's Northwest Village School, shares perspectives on why her work is a critical part of a transdisciplinary approach to student learning and care.
You wouldn't necessarily associate drumming with speech therapy, but according to Northwest Village School speech therapist, Anne Davis, MA, CCC-SLP, this practice and many others, are part of a comprehensive approach to help students to access and strengthen their language and communication skills.
"By making use of the drumbeats, children practice attunement and learn how to listen for sound patterns, as well as share phrases and sentences during therapeutic sessions," said Anne, a speech pathologist with Wheeler for 24 years.
Anne explains why this is even more important for students at Northwest Village School, Wheeler's Plainville-based therapeutic day school that serves youth, ages 4 to 21.
"We serve a vulnerable population here at Wheeler, and because of past trauma, children, and youth often come to us unable to describe their experiences," she said. "Trauma has a significant impact on the way the brain accesses both verbal and non-verbal language. We provide therapeutic intervention to help individuals connect with language and to be able to tell their stories."
A UCONN graduate who has always worked with children with special needs, Anne is proud to be part of a transdisciplinary approach to care that includes teachers, occupational therapists, behavioral health clinicians, and others at NVS.
"My colleagues and I believe that we can work most successfully if we take the time to learn about each other's areas of expertise and how they can be applied to individual situations," she said. "For example, we know we can improve a student's reading if we each know from the teacher, the grade level and reading complexity where this student is most successful."
She added, "At the same time, our clinician provides guidance on how best to manage this student's anxiety, while the speech-language pathologist shares techniques to develop rhyming and segmenting during class time, and an occupational therapist identifies tools such as use of a screen reader or font size."
Anne believes the greater the team collaboration, the greater the impact on whole-child development. "Essentially, we help each other help our students," she added.
When asked about her career, Anne said she is happy with the path she chose. "Finding ways to assist someone in sharing their ideas and advocating for their own needs and wants is rewarding," she said. "The chance to help someone defy the odds and achieve what others think is not possible is what continuously inspires me."