A New Path to Fitness at Northwest Village School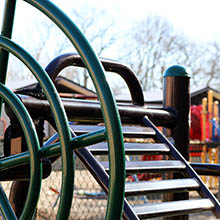 Students at Northwest Village School (NVS) will have even more opportunities to stay active and fit, thanks to a new outdoor fitness trail made possible through a generous gift from the estate of Hall "Cap" Adams, Jr., a longtime philanthropic investor in Wheeler's work with a passion for supporting good health and quality education.
Installation began on November 18, and the all-season trail will span the perimeter of Wheeler's 91 Northwest Drive property and provides an opportunity for students to run, walk, and engage with stationary exercise equipment, where they can jog in place, do pull ups and pull downs, ab crunches, and more.
"We so appreciative of this meaningful gift, and we are thrilled to add new opportunities for students to engage in physical activities," said Jon N. Oddo, MS, CAGS, Vice President/ Principal, Northwest Village School.
In addition to the outdoor trail and other forms of support for NVS students, Adams's gift of $100,000, supports Wheeler's fundraising campaign in Bristol to help fund the construction of a new community health center and administrative headquarters.
At NVS, Cap's legacy will carry on through the outdoor fitness trail, as well as through the Samuel Marszycki Scholarship, which supports graduating seniors pursuing post-secondary education. Finally, the gift supports the Basic Needs Fund at the school, which provides immediate help for the basic needs of life for students and their families, providing support that is not available through other means.
Wheeler's new health center and administrative headquarters in Bristol consolidates Wheeler's two existing health centers in the city and helps to anchor the downtown Bristol Centre Square development with professional jobs and accessible health care for the entire community. The public phase of the four-year fundraising campaign was announced at the same time, and now stands at $425,000 out of a $500,000 goal. An educational training area in the center will be named in honor of Adams to represent and continue his love of learning.
The Samuel Marszycki Scholarship is named in honor of a former paraprofessional at Northwest Village School who passed away in June 2020. It was established by family and friends in 2021 in Marszycki's memory and is supported through donations and the annual Sam-O Scramble Golf Tournament, which celebrated its second anniversary this September. Its first award in 2021 helped support a graduating NVS senior who went on to study at a local community college.
The Basic Needs Fund at Northwest Village School helps students and families with unexpected and pressing basic needs of life and has been used in the past for offsetting unexpected medical costs, food assistance, and help during the holidays. A similar fund at Wheeler's five federally qualified health centers has helped more than 5,500 individuals and families since 2018.