Navigating Anxiety and Uncertainty during the COVID-19 Outbreak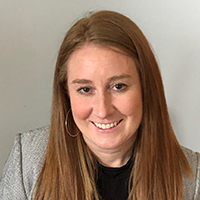 By Katie Singh, LCSW, Director, Outpatient Services, Wheeler
"There are a lot of things that people can do each day to manage the unknown."
From 9/11 to the Great Recession and more, individuals, families, and communities have endured stressful, life-changing events. But, because of its fluid nature and indefinite duration, the COVID-19 pandemic presents new challenges. People everywhere are grappling with how to adjust to sudden shifts in their day-to-day lives, while balancing added anxiety and fear with potentially pre-existing mental health and emotional challenges. The good news is that there are a lot of things that people can do each day to manage the unknown. Here are some tips and strategies.
Maintain a routine as much as possible. Make a concerted effort to eat healthy food, get the proper amount of sleep, and exercise, even if you must adapt to a new setting. Within your daily or weekly routines, be sure to take time to do what you enjoy doing, or maybe stretch by trying something new.
Find ways to connect with others. Various online platforms like Zoom, FaceTime, and Skype provide effective ways to communicate with associates and loved ones. Pick what work for you, and make time to connect and socialize.
Help people, as you can. Even with new limits and guidelines for social distancing, you can find creative, effective ways to show others that you care. For example, you might want to check in on a neighbor by phone or text, or with a quick, socially distant visit.
Tackle projects around your house. With shifts in your schedule, you may find that you have additional time on your hands. Tend to projects that you have been putting off, especially as your new at-home work and family schedules allow.
Set limits for yourself with news and social media. Make sure the news you consume is reliable, and establish boundaries for how frequently or how long you will watch or read the news or participate on social media.
Practice mindfulness. Be aware of and pay attention to the present moment. Use guided meditation and guided imagery to increase your awareness and focus. If anxious thoughts intrude, push those thoughts out of the way.
Be patient with yourself. Accept that everything will not go as planned, and all of us are doing our best to manage in this new normal.
---
"Accept that everything will not go as planned, and all of us are
doing our best to manage in this 'new normal.' "
---
When to Seek Help
If you experience changes in mood or appetite, or if your anxiety is too much to manage on your own, reach out to your behavioral health provider, or seek out mental health services.
To access services through Wheeler, call our Navigation Center at 888.793.3500. Our dedicated, caring team helps individuals to develop and strengthen their coping skills through several evidence-based therapies and regular check-ins that promote health, safety, and sobriety. Telehealth and telephonic services will be provided and can be used for many appointments, including some individual and family therapy, medical, psychiatry, and addiction services. For the most up-to-date information about Wheeler's hours of operation and programs temporarily on hold, visit this page.
All storms eventually pass. Together, we will move through this crisis.
Helpful Links