Mott, Wheeler Partnership Highlighted as Model for Employee, Social Engagement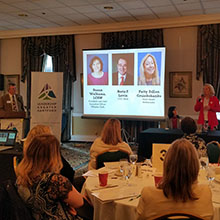 The strong, ongoing partnership between Wheeler and the Mott Corporation of Farmington was the focus of a Leadership Greater Hartford breakfast on November 17 focused on social responsibility and employee engagement.
More than 90 attendees from the nonprofit and business communities heard how the partnership benefits both organizations and their employees, and makes a measurable difference to the individuals, families and communities served by Wheeler.
Mott CEO Boris Levin, Patty Dillon Cruickshanks, sales & marketing services manager at Mott, and Susan Walkama, LCSW, president & CEO of Wheeler, served as panelists in a discussion moderated by Ted Carroll, president of Leadership Greater Hartford.
Levin said that working with Wheeler has generated both tangible and intangible business results for the company and its several hundred employees, more than a quarter of whom have directly volunteered at a Wheeler event in the last two years as a "Mott Health Ambassador." Improved employee satisfaction surveys have been one consistent benchmark, but the intangible benefits are also real and profound.
"We're a more human company because of this partnership," he said, citing an example when an employee came forward with a significant behavioral health issue. Mott's experience volunteering with Wheeler provided a new level of understanding about the situation that was crucial in helping the employee remain employed and get care they needed locally.
"These benefits are sometimes hard to measure, but, ultimately, we're helping employees feel connected to our own community, and to each other," he added.
Dillon Cruickshanks agreed.
"We all come from diverse experiences and backgrounds at work," she said. "It's powerful to have someone from finance working with someone from marketing and from manufacturing and from all of the other departments, experiencing something together in-person. Every time we do an event with Wheeler, afterwards, we're sharing experiences. We're talking to each other. It brings us closer together."
Many of Mott's volunteer projects have involved addiction services at Wheeler. These have included community forums on opioids, helping family members who have lost loved one to addiction create a "Remembrance Quilt," or participating in the 2017 CCAR Recovery Walk in Hartford.
"You may see something about the 'opioid crisis' on TV," she added. "But until you see the effect of it in person, it's hard to truly take it right to heart. At these events, we've talked to parents about what addiction has done to their family. We've walked as advocates, celebrating recovery. They are powerful experiences."
From Wheeler's perspective, Walkama said, the Mott partnership is important on multiple levels as well.
"First, there's the direct impact on our staff and everyone we serve. We're working with Mott employees directly, side-by-side. They're experiencing the same things we are," she said.
She also added that with Mott's support, Wheeler added a full-time community health outreach worker, Bristol resident Lisbeth Barreto, who uses a peer-based education model to engage families in culturally and linguistically responsive health care services, including those provided at Wheeler's Family Health & Wellness Centers in New Britain and Bristol. The community health worker model builds on the belief that community members are experts in their own lives and in their own communities, and harnesses local expertise, relationships and trust to improve engagement in primary and preventative care, chronic disease management and patient education and advocacy.
Walkama said the support for the position was directly in-line with Levin's desire to help in a unique way.
"From the first time we met, Boris's vision was clear," Walkama said. "He wanted to make an impact and a difference in the community. Together, we're doing something truly meaningful."
RELATED ARTICLES ABOUT WHEELER'S COLLABORATION WITH MOTT