May is National Foster Care Month: Hundreds of Connecticut Teens in Need of Loving Homes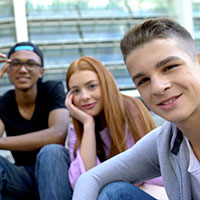 May is National Foster Care Month, an annual observance to recognize and support children, youth, and families in the foster care system. Wheeler's Foster Care team serves youth and families in Waterbury and eight surrounding towns to provide youth, ages 6 to 17, with stable, safe, caring environments for shorter periods of time or potentially longer.
"In Connecticut, on any given day, there are hundreds of youth who need loving foster homes, and most are over the age of 13 years old," said Sharon Pendleton-Ponzani, LCSW, director, Wheeler Foster Care Services. "This annual observance helps to underscore this need.
"The experience of fostering a teen, even for a shorter duration of time, is different but can be just as rewarding and equally as impactful," Pendleton-Ponzani added.
Wheeler's Foster Care program uses the evidence-based Functional Therapy in Foster Care Model (FFT Partners) and includes a dedicated team of professionals who provide weekly in-home sessions with youth and families as well as 24/7 on-call coverage support for the foster family. Support groups, ongoing training, and coordination of services for youth also are provided.
Wheeler's Foster Care program serves youth and families in: Beacon Falls, Middlebury, Naugatuck, Oxford, Prospect, Southbury, Waterbury, Wolcott, and Woodbury. There is a great need for new foster homes in this region to help local children, particularly teenagers.
Studies show that teens who age out of foster care or who do not have more permanent, loving attachments are at increased risk for homelessness, young parenthood, low educational attainment, high unemployment rates, human trafficking, and other adverse adult outcomes.
To learn more about becoming a foster parent through Wheeler, contact Wheeler's Recruitment team at 860.793.7277 or email fostercareprograms@wheelerclinic.org or visit: WheelerHealth.org/Foster.