Getting Over a Gambling Addiction is Possible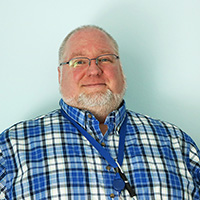 David Pogg's gambling addiction began when he was a child, visiting the dog track with his grandparents. Decades later, he found himself out for a walk, staring at the icy Connecticut River, contemplating taking his own life. "I had a choice at that moment," David says.
The choice he made was to continue walking to treatment that day, and for many days after. Today, David has been in recovery for more than 20 years. He is a peer counselor for Wheelor's Bettor Choice Gambling Treatment Program and an inspiration to Connecticut's gambling addicts as they begin their own journey to recovery.
David's slide into addiction started innocently enough, as it does for many. Gambling often starts as an escape from daily stress, or a plan for building wild success, yet quickly grows out of control.
Studies of brain imagery and neurochemistry show that gambling acts like a stimulant drug on the brain-- it gives the gambler high highs and low lows, and activates the brain's reward system in much the same way a drug does. The cycle continues because a gambling addict's brain reacts to a near win in much the same way it does to a win. While the financial reward might not come, the reward center of the brain is stimulated.1 A problem gambler chases the high in the same way a person addiction to drugs or alcohol might. And, like other addicts, they need help on the path to recovery.
How to recover from gambling addiction
For most gamblers, admitting there is a problem is the biggest hurdle. Once you understand gambling addiction symptoms and admit you need gambling addiction help, though, you make room for hope and possibility that isn't there when you're living with the weight of a secret. The words "I have a problem" may actually be the most liberating of your life.
David agrees. "The first step is admitting to the problem and then to engage in treatment," he says. "As a recovering gambler, I know and understand the struggles of the individuals we serve and the impact of their addiction on their family members and loved ones. There is life after this, though. There will be legal issues, potentially jail time, but it's possible to recover. It's possible to go on to lead a productive life."
Getting over gambling addiction is dependent upon finding help-- and in Wheeler Clinic's Bettor Choice Gambling Treatment Program, you'll benefit from the support, experience, and skills of trained professionals and peer counselors, like David, who are recovering gambling addicts.
Gambling addiction treatment helps problem gamblers stop or reduce gambling, and it also helps them:
Find hope
Regain self-esteem
Develop healthy relationships
Reduce financial pressures
Cope with guilt, shame, and remorse
Learn to manage urges and cravings related to gambling
Regain trust and become trustworthy
Gambling addiction treatment supports the gambler's personal growth and mental health, and guides them as they repair personal relationships and financial damages. These benefits are as crucial to recovery as the cessation of gambling activities.
What kind of treatment is offered for gambling addictions
At Wheeler, we understand the challenges that gambling addicts face, and we meet you where you are, with a discreet, strengths-based, outpatient treatment program developed to meet your specific needs. This approach means that we design a gambling addiction treatment plan based on your individual strengths and the resources available to you, so that you are empowered to take control of not just your addiction, but your recovery.
Since addiction rarely affects only the gambler, gambling addiction treatment at Wheeler may include a combination of individual, group, marital, and/or family therapy. Financial and peer counseling are also available to provide extra support and skills in the areas especially significant to gambling addicts.
For David, the impact of receiving help was life-changing. "There is no doubt in my mind that if it was not for Wheeler, I would not be here today."
We believe that this same transformation is possible for every gambling addict who commits to getting help. If you think you or a loved one has a gambling addiction, please call Wheeler's Bettor Choice Program Manager Katie Kirch at (860) 782-2549, or after hours at (860) 692-8857.