HEARTeam (Hartford Emergency Assistance Response Team) Website Launches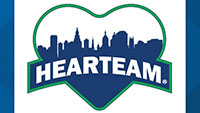 Page updated on June 23, 2022
Wheeler's Mobile Crisis Intervention Services program and two additional providers are part of an innovative civilian crisis intervention program in Hartford called the Hartford Emergency Assistance Response Team (HEARTeam). This program recently launched a new website and promotional video that highlights elements of the program. This initiative offers an alternative response to emergency 9-1-1 calls involving Hartford residents in emotional and mental health crisis. HEARTeam responders assist in situations where specialized non-law enforcement intervention is most effective.
Visit the website, access the video by clicking here.
Each provider offers a different response, including support for adults with acute mental health issues, as well as de-escalation techniques and linkage to care. Wheeler's team supports children and youth under 18 who experience a behavioral health crisis through on-site crisis assessment, intervention, safety planning and stabilization, as well as telephone and virtual services, and follow up care.
"The past two years clearly exposed what we've always known: The mental health of our children is vulnerable and precious, and must be treated with compassion," said Sabrina Trocchi, PhD, MPA, president and chief executive officer of Wheeler. "Hartford's innovative approach offers kids and the people who love them the hope for a better tomorrow through a more appropriate response to mental health crises."
A March 8, 2022 Town Hall meeting with Hartford Mayor Luke Bronin provides details.