Events Highlight Services in Waterbury and Beyond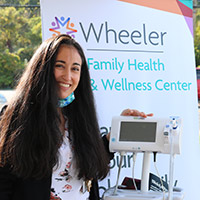 There's a lot happening at Wheeler's community health center at 855 Lakewood Road in Waterbury, and a recent two-part special event helped to underscore this point.
On October 20, an afternoon Fall Festival and Health Fair took place and was preceded by a mid-morning event to mark the relaunch of a federally funded program for expectant moms and mothers of young children, as well as details on enhanced medication-assisted treatment for adults. Connecticut Department of Mental Health and Addiction Services (DMHAS) Acting Commissioner Nancy Navarretta, M.A, LPC, NCC, and other community leaders attended the morning program, and later on, residents of the Brass City enjoyed the festival and health fair, which featured free food, tours, health screenings, family activities, and more.
For details about Wheeler's PROUD program, click here.
"Amid a very serious phase of the COVID-19 pandemic last year—we moved from Jefferson Square to Lakewood Road," said Sabrina Trocchi, PhD, MPA, president and chief executive officer, Wheeler. "Our services are designed to meet the whole-health needs of people in this community, and we will continue to find innovative ways to deliver care and improve lives."
PROUD is funded through a Substance Abuse and Mental Health Services Administration (SAMHSA) grant awarded to the Connecticut Department of Mental Health and Addiction Services (DMHAS) to provide essential recovery services to Connecticut families affected by substance use.