Doctors Joshua Jones and Alexandra Stanford Join Wheeler Family Health & Wellness Center in Hartford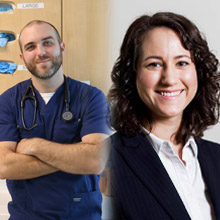 Two experienced local family practice physicians have joined Wheeler Health's Family Health & Wellness Center in Hartford, providing primary care for patients of all ages and integrating with on-site behavioral health and addiction services.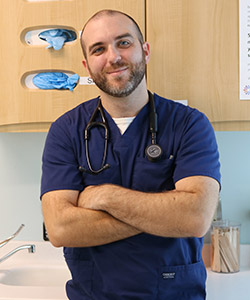 Joshua Jones, MD, graduated from UConn on the Urban Service Track and completed his residency at Middlesex Hospital Family Medicine in the Behavioral Health Track. His medical interests include addiction medicine, LGBTQIA+ care, and high-quality primary care for underserved groups. He says he has a philosophy of care that is focused on helping patients meet their goals, health and otherwise.
"Every day at work I am surrounded by role models. The level of commitment and compassion here to providing high-quality care is an inspiration and lets me know I've found my people."
Alexandra Stanford, MD, graduated from Tufts University, as well as the University of Queensland School of Medicine in Australia, and the University of Arizona. She completed the Middlesex Hospital Family Medicine Residency Program in 2023, where she served as Chief Resident. She has won numerous awards for clinical excellence in 2018, 2022, and 2023.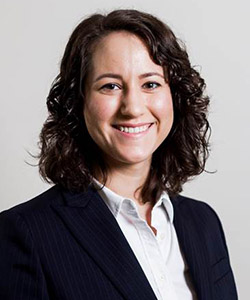 "I am so excited to join the Wheeler team. It is clear that this is the type of place that truly cares for individuals and wants the best for everyone they encounter. I am looking forward to serving the community and am particularly excited to offer care to the LGBTQIA+ community."
Rebecca Eleck, MD, Wheeler's primary care medical director, says that both Jones and Stanford bring experience and an approach to the future of medicine that perfectly complements Wheeler's whole-person philosophy of care.
"Every day, our patients depend on us to work side-by-side with them to improve their health and wellness. Both Dr. Jones and Dr. Stanford have a passion for viewing their role in family medicine as part of a larger team that can offer our patients everything from on-site behavioral health, addiction, nutrition, dental care, and more. Community health centers like Wheeler are the first line of health care for more than 30 million Americans every year, and we need their kind of innovative way of viewing health."
Wheeler Family Health & Wellness Centers
Wheeler's Family Health & Wellness Centers in Bristol, Hartford, New Britain, Plainville, and Waterbury are community health centers that provide medical and dental care for the whole family, as well as behavioral health care and referral and linkages to specialty services.
Wheeler's Health & Wellness Centers in Hartford, Bristol, and New Britain are funded in part by the Health Resources and Services Administration (HRSA), an operating division of the U.S. Department of Health and Human Services.
Wheeler is a Health Center Program grantee under 42 U.S.C. 254b and a deemed Public Health Service employee under 42 U.S.C. 233(g)-(n).
Medicaid, Medicare, and commercial health insurance welcome. No patient will be denied health care services due to an individual's inability to pay for services.