COVID-19 Testing at Wheeler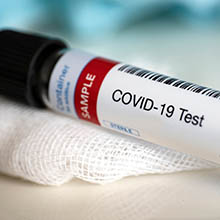 COVID TESTING FOR THE GENERAL PUBLIC ENDED ON THURSDAY, JUNE 24, 2021.
Existing Wheeler patients only will continue to have access to convenient COVID testing through any of our Family Health & Wellness Centers. For the general public seeking testing, we recommend 211.
All participants will receive a follow-up phone call from Wheeler in 3-4 days to review test results.
Additionally, learn more about getting your Quest Diagnostics® test results through the MyQuest™ online portral or app.
Download the flyer in English here.
Download the flyer in Spanish here.
NOTE: If you are asked to asked in the app for additional information to see your results or request them, please use Dr. Rebecca Eleck as the Physician/Practice name, and 888.793.3500 as the phone number.