Camila Rubino Joins Wheeler as Senior Director of Nursing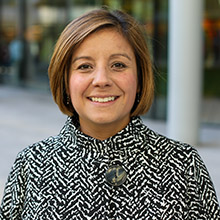 Camila Rubino, MBA, MSN, BSN, RN, of Southington has joined Wheeler Health as senior director of nursing, overseeing all nursing and medical assistant operations at Wheeler's five federally qualified health centers, congregate care settings, and Northwest Village School.
With 20 years of nursing experience in a variety of health care settings, including emergency department, cardiology and kidney specialties, inpatient and outpatient settings, and other Connecticut federal qualified health centers, Rubino brings a wide range of clinical and managerial perspectives to Wheeler's health care operations.

"Our nurses and medical assistants save lives every day, providing quality health care to everyone who depends on us," says Sabrina Trocchi, PhD, MPA, Wheeler's president and chief executive officer. "Camila's compassion, knowledge, and passion for excellence set her apart."

Born and raised in Colombia, Rubino says she understands the impact of accessible, responsive health care on patients and their families.

"As a nurse, what is most important to me is that everything we do makes sense for the patient," she says. "I have personally experienced those times of not being able to find support or access to health services, and I've faced the challenges of navigating access to mental health care. I want to do everything I can to create a great outcome for everyone we care for. As a leader, my passion is helping people, teams, and organizations determine where they want to be and helping them get there.

Whether we're providing care for a student in our school, helping a child receive health care for the first time, or managing the care for an entire family, everyone's needs are unique and Wheeler is in a unique role to provide a full continuum of care for them."

Rubino holds an MBA from Yale University School of Management, an MSN from Sacred Heart University, and a BSN from Southern Connecticut State University. She has received a Nightingale Award for Nursing Excellence® and is bilingual in Spanish.