Wheeler Celebrates 50 Years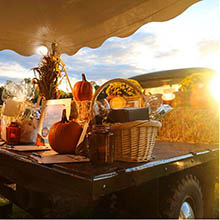 Anniversary Celebration, Challenge Raises More Than $145,000 For Services
Nearly 250 donors, friends, and leaders from throughout Wheeler's history celebrated its 50th anniversary on September 29 and helped raise more than $145,000 for services, a record for fundraising events at the organization.
The dinner and an ongoing Board of Trustee fundraising challenge for the anniversary year and event benefits a new fund at Wheeler that addresses a range of environmental and social factors that interfere with clients' health and well-being, which are not addressed by other means of funding.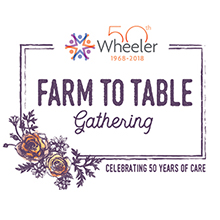 Attendees included staff and leaders from every year of Wheeler's history, two of the earliest trustees, and both the current and the founding leadership teams. The 2018 leadership team were the largest donors for the dinner, contributing to a collective group gift of nearly $20,000. Anthem Blue Cross Blue Shield, The Barnes Group and Loureiro Engineering Associates were also major sponsors, with all three organizations having deep connections to Wheeler through the decades. The full list of public sponsors is available below. Lieutenant Governor Nancy Wyman served as the dinner's honorary chair.
In her remarks, President and Chief Executive Officer Susan Walkama, LCSW, praised the leaders, donors, and supporters who have guided Wheeler since 1968; unveiled a plaque of philanthropic supporters of Wheeler's Family Health & Wellness Center in Hartford; announced a new significant gift from Lori and David Brantner in honor of longtime trustee Raymond Corsini; and showcased a 50th anniversary tribute video.
"From the moment a group of community visionaries came together in the late 1960s to establish a center for treating children's mental health needs in Plainville, Wheeler has always been different," Walkama said. "We've always looked at things with an innovative lens, applied state of the art programming, used the newest technologies, engaged a talented staff, and had the unique ability to change quickly to meet community needs and deliver the highest quality care."

Celebrating 50 Years of Care: Wheeler's Farm to Table Gathering was hosted by Rosedale Farms and Vineyards of Simsbury, with a Max Chef to Farm Dinner provided by the Max Restaurant Group. Rosedale Farms and Hanging Hills Brewing Company provided wine and beer, and The Meadows Brothers were the musical entertainment for the evening.
Hope Sponsors
The Wheeler Leadership Team
Health Sponsors
Anthem Blue Cross & Blue Shield
Barnes Group, Inc.
Loureiro Engineering
Recovery Sponsors
Aetna
GG & E Wealth Management Advisors/Northwestern Mutual
GO
Karl Krapek
Manafort Brothers, Incorporated
Mutual of America
OneDigital
Trinity Health of New England/Saint Francis Hospital & Medical Center
WEX Health
Growth Sponsors
Bank of America & U.S. Trust
Brown & Brown of Lehigh Valley, LP
Connecticut Community Care
Farmington Bank
Johnson Brunetti
Max Restaurant Group
Powerstation Events
Tecton
Bill and Laurie Torres
Positive Change Sponsors
Biscoglio Family
BlueNovo
Bristol Hospital
Central Connecticut State University
Ceridian
Connecticut Health Foundation
Charley and Karen Herbert
Peter and Mary Hess
Irongate Insurance
Jim and Janet Moylan
Martha and Luis Nunes
Francis and Erin Vincent
Wiggin and Dana
Table Hosts
Dennis and Mary Keenan
Diana and Mark Levsky
Pierre and Karen Richard
Gary and Judy Thomas
Inkind Donors

Hanging Hills Brewing Company
---
"Celebrating 50 Years of Care"
Planning Committee
Jake Biscoglio, Co-Chair
William Gombatz, Co-Chair
Diana Levsky
Christine Skelly
Gary Thomas
Francis Vincent