Zumba at Wheeler Family Health & Wellness Center, Hartford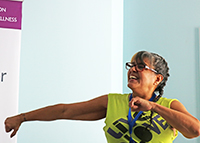 Wheeler patients looking for a way to manage stress, burn calories and improve physical conditioning can take Zumba classes at Wheeler's Family Health & Wellness Center at 43 Woodland Street.
Zumba is an aerobic fitness program featuring movements inspired by various styles of Latin American dance and performed primarily to Latin American dance music. Zumba provides a total workout, combining all of the elements of fitness: cardiovascular and muscular conditioning, as well as balance and flexibility. Routines include interval training — alternating fast and slow rhythms — and resistance training.
Hear more from Naida Rodriguez-Rosado, licensed Zumba fitness instructor, about the benefits of this fun, lively and effective approach to fitness.