Wire, Spring Industry Ensures Care Is Available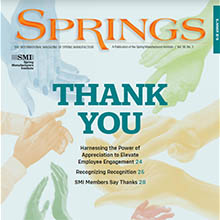 From Springs Magazine, Summer 2019
Published by the Spring Manufacturers Institute
Republished with permission.
For more than five decades, the central Connecticut community has supported Wheeler Clinic in its mission to serve residents in need, including 30,000 last year. Much of that support has come from the region's manufacturing sector, which includes several notable local wire and spring firms. Through the support of these firms, the organization is now a statewide leader in integrated primary and behavioral health care.
Barnes Group / Associated Spring – Support From the Beginning
The close connection between Wheeler and the wire and spring industry dates back to its formation. Local attorney Bonnie Barnes worked pro bono to establish the organization in the 1960s, and Associated Spring / Barnes Group of Bristol, Connecticut has since been a stalwart support of Wheeler's mission. The company literally helped build the organization's facilities in the area, has worked in partnership on priority community efforts and initiatives, provided volunteer leadership on Wheeler's board, and philanthropically supported Wheeler in countless ways through capital campaigns, top special event sponsorships, and more. Associated Spring / Barnes Group received Wheeler's Hands and Hearts Award in 2013 for its philanthropic commitment to the organization's mission.
"Giving back to our community is woven into the work we do every day," says Thomas O. Barnes, chairman of the board of Barnes Group, as well as its charitable foundation. "We encourage our employees to be active in their neighborhoods and through their own giving, and generations of the Barnes family have understood that success in our business has to go hand in hand with being a leader and engaged in our community and the issues it faces. Wheeler addresses some of those most difficult issues."
Gibbs – Making Connections That Benefit the Community
That mindset of giving back overlays the entire spring manufacturing community locally.
William J. Torres, CEO and president of Gibbs in next-door Southington, Connecticut, has contributed to Wheeler's service and success in countless ways. Torres got to know Wheeler as a golfer in the organization's annual golf classic nearly two decades ago. Since then his relationship has evolved into so much more, including as an event sponsor, two terms as a very active and involved Wheeler trustee and board officer. Torres was also a recipient of the Hands and Hearts Award, and served four years as chairman of the golf event, which has raised more than $1.1 million since launching in the mid-1980s. Wheeler is the primary beneficiary of Gibbs' philanthropic efforts, and Torres has recruited many local business leaders, employees, and supporters to become involved in Wheeler's work, today and into the future.
"I find it's very easy to stay connected to an organization like Wheeler," Torres says. "Once I got on the board and saw the mission, and saw that it was run in a very professional way, it resonated with me. As an employer, we are always trying to balance the interests of many parties including our employees' needs, and our community, and we can do that by giving our time and support to help people around us who need services. The need doesn't discriminate. Our employees, our customers, our shareholders, and our community all benefit from an organization like Wheeler and what it offers."
Tollman Spring – Investing in Community Needs
In tight-knit, compact New England, with firms sometimes dating back centuries, suppliers, producers, and competitors are also neighbors who all must focus on their own market growth, but all also can immediately feel the immediate benefits of a healthier community to their bottom line and operations.
Tollman Spring Company in Bristol is another great example of a firm that consistently supports Wheeler's mission, through a relationship dating back more than 25 years. Like Barnes Group, Torres and Gibbs, Tollman has also received Wheeler's Hands and Hearts Award for its philanthropic work in support of the organization's mission.
Richard Zink, president of Tollman Spring since 2003, says their corporate giving extends in many directions locally, from food pantries to youth organizations and police departments, but making sure accessible health care is available in the community has always been a priority. Like Torres, Zink first learned of Wheeler through its golf tournament and has since seen the benefit provided to local residents…and the skilled workforce that helps him grow his company.
"You can't turn a blind eye to what's happening around you, or to what your employees are going through. That's not what we're about," Zink says. He believes that Tollman's success—last year was their biggest since beginning in 1945—only highlights the need for a skilled and healthy community.
"In our business, we have to keep reinvesting, and training our employees for what it's going to look like five, 10 years down the road, filling the voids that we know will exist," explained Zink.
"When we give to support a place like Wheeler, it's related to that thinking in a lot of ways. We appreciate that they are out there, doing what they do. We have good employees here, and we want them to live happy and healthy lives, today and in the future."