The Winter 2017 Issue of Positive Change is available!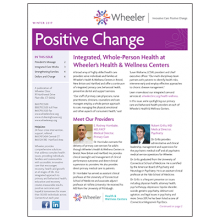 The Winter 2017 issue of Wheeler's print newsletter Positive Change takes readers from the very beginning of Wheeler to the latest developments in integrated care.
Despite current local and national challenges, Wheeler's commitment to providing effective, affordable care to the individuals and families we serve has been steadfast for nearly 50 years.
In This Issue:
Perspectives from an Early Leader
Expanded Resources to Strengthen Families in Manchester, Hartford
Ensuring Youth Entering Foster Care Find Medical Home

TIPS-MAPP Course Highlights the Many Facets of Foster Parenting