Wheeler's Heather Clinger Named STEPS President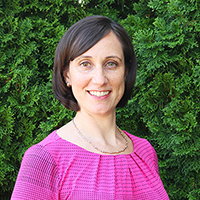 Heather Clinger, MPH, CPS, program manager, Wheeler's Connecticut Center for Prevention, Wellness and Recovery, was named president of Southington's Town-wide Effort to Promote Success (STEPS) Advisory Board for the 2019-2020 fiscal year. STEPS is the community's substance abuse prevention coalition that strives to make prevention a priority through education, reducing access, and policy change. Their work specifically focuses on underage drinking prevention, tobacco, e-cigarette and vaping prevention, marijuana prevention and prescription drug misuse prevention, asset building classrooms, and positive youth development.
Wheeler's Connecticut Center for Prevention, Wellness and Recovery partnered with STEPS 10 years ago. Heather joined as a member of the STEPS Advisory Board in August 2014, representing the substance abuse prevention sector. In this role, she coordinated the Parents Raising Healthy Teens committee, which consisted of many community prevention education projects throughout Southington reaching out to engage parents in prevention with messages such as "Parents, You Matter!" and "Be the Host with the Most Piece of Mind." In 2016, Heather joined the Executive Committee serving as secretary, vice president and now president.
Throughout her tenure with STEPS, Heather also created a series of "Be in the Know," educational forums for parents in collaboration with the STEPS prevention coordinator. Some of the educational forums included "The Reality and Impact of the CT Social Host Law," "Parents Keeping Up with Technology," and "The Truth about Today's Marijuana and the Impact on Youth."
As president of STEPS, Heather will focus on prevention and positive youth development, maximize the strength of the advisory board to build upon the existing strong collaborative relationships within the community and engage new community partners by starting the STEPS ambassador program where board members will go out into the Southington community and give presentations about prevention.
Kelly Leppard, STEPS youth prevention coordinator, stated that she is "Excited about [Heather's] leadership and expertise in the substance abuse prevention field and how both will strengthen the Southington coalition."
Click here to read more about Southington STEPS program.