Wheeler's Community Health Center in New Britain Opens in New, Expanded Location at 40 Hart Street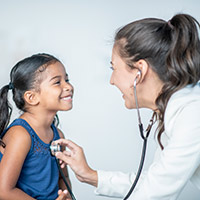 Medical and behavioral health care for the whole family now offered; addiction treatment, complementary medicine, and more, provided.

Updated June 21, 2021: Individuals and families in New Britain and surrounding communities now have access to expanded care in one convenient location. Wheeler's New Britain community health center, formerly at 75 North Mountain Road, moved on June 21 to 40 Hart Street, and an expanded array of health care services is now available to people of all ages.
A May 20, 2021 New Britain Herald story highlights the move. Click HERE for the story.
Learn more or schedule an appointment at 860.793.3500 or toll-free at 888.793.3500.
"Wheeler has provided care to the Hardware City since 1991, and this expansion brings a new, fully integrated, expanded continuum of care, including primary and pediatric care, women's health care, and behavioral health services for individuals and families," said Sabrina Trocchi, PhD, MPA, president and chief executive officer, Wheeler. "We look forward to meeting the complex health needs of people in this city and nearby communities, many of whom struggle with chronic conditions such as diabetes, hypertension, and high cholesterol, as well as mental health and opioid addiction and other forms of substance use."
Services offered at the Wheeler Family Health & Wellness Center at 40 Hart Street include:
PRIMARY CARE FOR ADULTS AND CHILDREN
Pediatric primary care
Primary care for adults
Women's health care
Chronic disease management for asthma, diabetes, hypertension/heart health, HIV, hepatitis, and more
Medication-assisted treatment for alcohol or opiate addiction, including extended-release naltrexone (Vivitrol®) and buprenorphine (Suboxone®) for alcohol, heroin and opioid addiction, tobacco cessation services and recovery supports
Care management for adults with complex health care needs and behavioral health concerns
On-site Genoa Healthcare pharmacy and Quest Diagnostics laboratory services
Linkages to specialty and ancillary services like dental care
Prevention, health promotion, and wellness services
BEHAVIORAL HEALTH AND OUTPATIENT SERVICES FOR ADULTS AND CHILDREN
Individual, family, and group outpatient therapies
Intensive outpatient programs (IOP)
Psychiatric services, including psychiatric evaluations and medication management
The Family Health & Wellness Center in New Britain is one of five Wheeler community health centers. Other facilities are located in Bristol, Hartford, Plainville, and Waterbury. As a federally qualified health center, Wheeler is part of a network of community health centers nationwide that provide affordable, accessible health care for more than 29 million Americans.
Meeting Community Need
Wheeler's Family Health & Wellness Center service area in New Britain is a mental health, primary care, and dental Health Professional Shortage Area, comprising federally designated medically underserved populations.
Only 48.84% of the low-income population in the city are currently connected to a health center, which means that 23,704 people in the community don't currently have access to care.
Only 35% of New Britain households had adequate income, compared to 60% statewide.
Chronic disease is prevalent in the city, varying widely by zip codes, indicating a dramatic level of health disparities among residents. For example: diabetes (7.8%–14.1%); high blood pressure (21.8%–43.9%); and obesity (21.8%–29.5%)
Wheeler's integrated primary and behavioral health care service model, embedded in trauma-informed and culturally-, gender- and LGBTQIA+-responsive approaches, reduces barriers to care and provides a more effective path to primary and preventative care for individuals with serious mental illnesses and substance use disorders. Wheeler is also designated by the Connecticut Department of Social Services (DSS) as a Person-Centered Medical Home Plus (PCMH+) provider, which aims to improve health outcomes and the care experience of Medicaid members. Wheeler's New Britain community health center holds a Joint Commission Behavioral Healthcare & Human Services accreditation and Primary Care Medical Home (PCMH) certification.
For more information, click here. To schedule an appointment, call 888.793.3500 (toll-free) or 860.793.3500.