Wheeler's Basic Needs Fund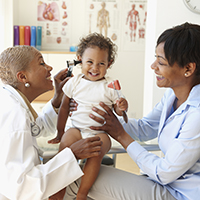 Wheeler's new Basic Needs Fund addresses a range of environmental and social factors that interfere with a patient's health and well-being, but are not addressed by other means of funding.
For example, a child with asthma, which is commonly diagnosed in many of the children we serve, is going to bed tonight on an old, dirty mattress. We know we can treat asthma when families walk in our pediatric clinic. But unhealthy environmental conditions leave that child at risk of continued symptoms, trips to the emergency room and at times hospitalization. Our new fund will allow our community health workers to purchase a new mattress and address other environmental conditions that might lead to poor health outcomes.
Or a mother suffering from diabetes, socially isolated and caring for two small children, who temporarily loses her health coverage and now requires short-term support to purchase insulin to prevent a hospitalization and have her children placed in the care of the state child welfare system.
Or another mom who misses critical medical follow-up appointments to manage her hypertension and serious mental health issues because taking the bus to a medical appointment with three small children is overwhelming. By covering the cost of a taxi or a babysitter, we are able to assist her in getting the care she needs.
Click here to support Wheeler's new Basic Needs Fund.