Wheeler, United Way Partner to Help Vaccinate Hartford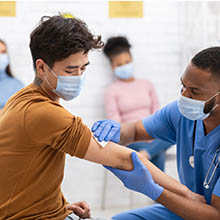 As part of an initiative funded by the City of Hartford and coordinated by the United Way of Central and Northeastern Connecticut, Wheeler's Family Health & Wellness Center in Hartford is hosting public vaccination events this winter and launching an awareness campaign around the need for flu and COVID-19 vaccination in the capital city.
"Vaccinating yourself and your family is the best way to protect our community," said Rebecca Eleck-Bruce, MD, Wheeler's primary care medical director. "Particularly in the pandemic, we're working to save lives and ensure that we don't face a dual pandemic of COVID and influenza stressing Hartford's health care infrastructure."
The United Way created the comprehensive campaign by identifying core vaccine hesitancies of priority populations to ensure that all media campaigns, community clinics, and other outreach directly addressed community needs.
"Now more than ever, Hartford residents deserve relevant, accurate information about vaccine safety and how to keep their family and community healthy," said Liany E. Arroyo, the City of Hartford's Director of Health and Human Services.
The Latino Way, a local communications firm, hosted seven focus groups in English and Spanish with members of the community to assess attitudes and gain understanding around their hesitancies. Using takeaways from these groups, the United Way formed a communications campaign that is specifically relevant to Black and Latino Hartford residents, addressing their concerns and biases.
They are launching a media campaign that includes radio ads, videos, and graphics shared on social media, and printed posters and flyers placed in public places and distributed by community partners. All communications are in both English and Spanish, and feature members of the community including teachers, firefighters, nurses, and business owners. These individuals are recognized as trusted voices by Hartford residents, and are equipped to speak about getting vaccinated against the flu.
In addition, they created a website (link below) that showcases where Hartford residents can go to get the flu shot and also combat common misinformation about vaccines.
Partnering community organizations like Wheeler are hosting and advertising special weekend flu clinics for the community, sharing the vaccination education campaign through their social media channels, and distribute printed materials to their constituencies where appropriate.
RELATED LINKS