Wheeler Transforming Clinic Site in Plainville to Full Community Health Center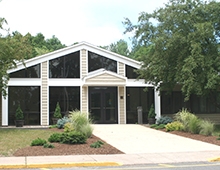 Location was the original site of the mental health outpatient clinic since 1972
Wheeler, a leading statewide provider of integrated primary care and behavioral health services, is transforming the services at its original behavioral health clinic location at 91 Northwest Drive, Plainville, to offer fully integrated primary and behavioral health care in one location.
The federal Health Resources and Services Administration (HRSA) recently approved Wheeler's application to bring the behavioral health clinic into its federally qualified health center scope and expand the services offered at the location.
Effective immediately, the new Plainville Family Health & Wellness Center will join Wheeler's four other community health centers in Bristol, Hartford, New Britain, and Waterbury—and more than 1,300 other federally qualified health centers across the country—as a frontline network of whole-person health care that keeps nearly 30 million Americans well. The Plainville location had previously been the only Wheeler outpatient site that was not a federally qualified health center.
Wheeler is committed to enhance the continuum of services on-site at the Plainville Family Health & Wellness Center to soon include patient-centered and fully integrated health care, coordinated referrals to specialty care, and services to meet patient needs and advance individual and population health outcomes crucial to the Plainville community.
"At the Plainville Family Health & Wellness Center, we will address barriers in access to health care, reduce health disparities, and build health equity in our community, vital for a healthier, better future for us all," says Sabrina Trocchi, PhD, MPA, Wheeler's president and chief executive officer. "We have seen such wide chasms in inequity in 2020 across our state and country. Community health centers like Wheeler are the leading voice in ensuring America is healthier tomorrow."
Wheeler will continue to provide behavioral health services for children, adolescents, and adults at the Plainville site, with plans to expand services to include primary care for the whole family, as well as medication-assisted treatment (MAT) for alcohol and opioid addiction, which is fully aligned with Wheeler's integrated model of care.
"It's hard to overstate how important this move is," Trocchi says. "When a group of visionaries broke ground at Northwest Drive in 1972, in what had been a cow pasture, they were looking to change the model for how behavioral health care was delivered in Central Connecticut. They did, and today we are taking that vision and making it so far beyond their wildest dreams."