Wheeler Recognized for Patient-Centered Care, Quality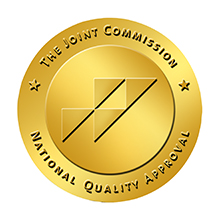 Only community health center in Connecticut with both primary care medical, behavioral health home certifications; only one of five nationwide with unique combination of accreditations and certifications.


Wheeler Clinic has uniquely earned four accreditations and certifications from the nation's oldest and largest standards-setting and accrediting body for providing quality, coordinated, patient-centered health care.
Wheeler is the only Connecticut community health center certified by The Joint Commission as both a Primary Care Medical and a Behavioral Health "Health Home." In addition, the organization is accredited for behavioral health and ambulatory health care. Wheeler is the only Connecticut community health center to attain the Joint Commission's Gold Seal of Approval® for all four of these distinct Accreditations and Certifications together, and only one of five nationwide.
Wheeler first achieved accreditation with The Joint Commission in 1988 for behavioral health, and as the organization evolved into a federal qualified health center, it sought additional accreditations and certifications to improve integrated health care services.
"Through visionary boards and leadership, Wheeler transformed in the last decade to provide complete health care. We saw the unmet health care needs in communities we serve, and we're focusing on patient-centered, whole-person health care unlike any other community provider in Connecticut," said Susan Walkama, LCSW, president and chief executive officer, Wheeler. "The Joint Commission's thorough accreditation and certification process gives us an opportunity to examine everything we do to ensure the highest quality and the best health outcomes."
In attaining both primary care medical and behavioral health "health home" certifications, Wheeler successfully demonstrated having services, systems, and processes in place that support:
Patient-centered care – Relationship-based care focused on the whole person and understanding and respecting each patient's needs, culture, values and preferences.
Comprehensive care – A team of providers, including physicians, advanced practice nurses, nurses, behavioral health workers, social workers, recovery specialist, and others, work to meet each patient's physical and behavioral health care needs, including prevention and wellness, acute care and chronic care.
Coordinated care – Care is coordinated across the broader health care system, including specialty care, hospitals, home care and the provision of community and support services. This is particularly critical during transitions between sites of care, such as when patients are discharged from the hospital.
Superb access to care – Patients have access to services with shorter waiting times for urgent needs, enhanced in-person hours, around the clock telephone or electronic access to members of the care team, and alternative methods of communication.
Systems-based approach to quality and safety – The organization uses evidence-based medicine and clinical decision support tools, engages in performance measurement and improvement, measures and responds to patient experiences and satisfaction, practices population health management, and publicly shares robust quality and safety data and improvement activities.
Wheeler underwent a rigorous on-site survey in November of 2018. During the review, compliance with standards related to several areas, including care, treatment, and services; environment of care; leadership; and screening procedures for the early detection of imminent harm were evaluated. On-site observations and interviews also were conducted.
The accreditations and certifications for Wheeler are for numerous locations across the state, including the three Family Health & Wellness Centers in Bristol, Hartford, and New Britain, as well as its congregate care facilities, foster care programs, and in-home and outpatient behavioral health services.
The Joint Commission
Founded in 1951, The Joint Commission seeks to continuously improve health care for the public, in collaboration with other stakeholders, by evaluating health care organizations and inspiring them to excel in providing safe and effective care of the highest quality and value. The Joint Commission accredits and certifies nearly 21,000 health care organizations and programs in the United States. An independent, nonprofit organization, The Joint Commission is the nation's oldest and largest standards-setting and accrediting body in health care. Learn more: www.jointcommission.org. Quality reports from The Joint Commission are available at www.qualitycheck.org
Wheeler Clinic
Wheeler provides comprehensive solutions that address complex health issues, providing individuals, families and communities with accessible, innovative care that encourages recovery, health and growth at all stages of life. Our integrated approach to primary and behavioral health, education and recovery creates measurable results, positive outcomes and hopeful tomorrows for more than 30,000 individuals across Connecticut each year.